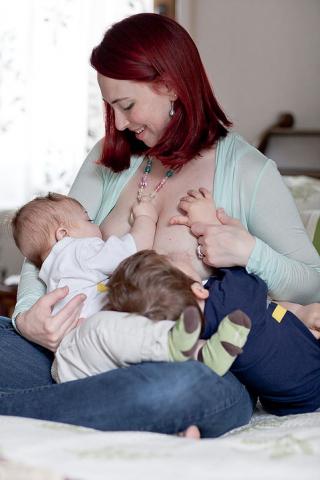 #MilitaryMonday: Amy's Breastfeeding Advocacy Story
I breastfed my twins for 19 months, until they self-weaned.  (You can read about that experience here.)  Shortly after their second birthday, we moved to Germany when my husband got orders to Landstuhl Regional Medical Center.  One day, I popped into the lactation room to change a diaper, and found a flier for something called Mom2Mom Breastfeeding Support.  I contacted the person on the flier and signed up for a free training to become a Peer Mentor.   I was excited by the opportunity to support other moms, and I was drawn to the mission of Mom2Mom "to help each mother reach her individual breastfeeding goals."  Over the next two years, I was assigned about a half a dozen mentees, including a couple of moms with twins.  
Then, in 2010, when I was pregnant with my third child, one of my mentees had an extremely negative encounter in one of the clinics.  Incensed, I shot off an angry email to the Mom2Mom coordinator, railing against ill-informed policies that undermined our breastfeeding mothers. The coordinator wrote back, reassuring me that it was not, in fact, a policy, just the ill-informed opinion of someone on staff.  And she had a challenge for me.  She'd been thinking that Mom2Mom needed to expand its work in advocating for breastfeeding moms in our community, and would I be interested in taking it on?  I thought about it, and decided that if I was going to have to advocate for my own child, I might as well advocate for all the children in our community.  I accepted the invitation.
 This began a life-changing journey for me.  I threw myself into the development of Mom2Mom, working in collaboration with what eventually became a 5-woman team to build an organization that was sustainable through the constant leadership turnover of military life.  We organized, branded, and developed a comprehensive plan to achieve our mission of a community culture in which breastfeeding is simply a normal way to nourish and nurture infants and young children, and in which every woman has the support she needs to reach her own individual breastfeeding goals.  We wrote our mission statement, and then we achieved it, slowly, in increments, often feeling lost or like we were spinning our wheels in mud uphill.  Renamed Mom2Mom KMC (for the Kaiserslautern Military Community), under the new leadership of an experienced human resources manager, we refined the Peer Mentoring program, and added weekly in-person breastfeeding cafes and a closed Facebook group to expand peer support to live and online 24/7 coverage.  We quickly realized that, as we were up in the middle of the night nursing our babies, so were many other moms in our community.  We decided that we couldn't be a breastfeeding support group unless our leadership attained accurate, up-to-date knowledge about breastfeeding, so we began hosting Certified Lactation Counselor trainings annually in Germany, so that our board members and others in our community could provide adequate support beyond the scope of a Peer Mentor.  As the first Community Outreach Director, I worked for years to build bridges with other community support organizations and health care facilities.  
We learned a number of lessons along the way.  We learned that often the most effective solution is the smallest.  For example, to combat the problem of mothers being harassed on base, we created printable wallet-sized cards printed with the law permitting breastfeeding on federal property.   The cards were quickly adopted by other community organizations, and the hospital began handing them out in their discharge paperwork.  If a mother was ever confronted about breastfeeding her child, she could simply present the card and ask the offender to leave, or face security.  We learned that a team of dedicated and passionate military spouses could make an impact.  Mothers became empowered by these little scraps of paper, public breastfeeding rates soared, and incidents of harassment dropped to nearly none.  These cards are now for sale for anyone to purchase and use. 
We learned that often, what feels like a dead end is simply active waiting, and that culture change is much like pushing a large boulder over a mountain.  It's very slow, difficult work with much backsliding at first, but once you pick up momentum, results come rapidly.
My work with Mom2Mom gave me an outlet and a purpose.  My background in nonprofit management served the organization and the community in ways I never imagined.  As trained lactation counselors, we gained experience by working as a team to help moms and babies in breastfeeding cafes, and that carried over to an open, collegial relationship in which we were able to refer to each other and bounce ideas off each other to ensure that each mom and baby truly received the best possible support for their situation.  But more than that, Mom2Mom became my lifeline.  The thousands of hours I gave to the organization was miniscule compared to the priceless gifts I received.    
The women on our fledgling board of directors became my closest friends.  When my husband deployed and I had 5-year-old twins and a six-month-old baby, it was my Mom2Mom friends who insisted I get out of the house.  When my mother struggled with health problems, it was my Mom2Mom friends who listened and sympathized.  When my husband came back and I became pregnant with our last child, it was my Mom2Mom friends who reassured me through a very frightening high-risk pregnancy, and who celebrated my tandem-nursing journey.  When my youngest developed colic from an undiagnosed tongue tie, and I developed postpartum depression, there were many weeks I only held on to my sanity by remembering that Wednesday would be breastfeeding café, when someone else would take my screaming child and calm him down.  These women taught me how to wear my babies, they inspired me to try cloth diapers (and then taught me how to do the laundry), they listened to me and told me the truth.  We laughed, cried, and celebrated together.  They were my village, my tribe.  Being a part of Mom2Mom shaped me, it made me a better mother than I ever could have been without these friendships and this community.
In 2014, I left the board of directors, but I remained involved as a volunteer and Peer Mentor.  In 2015, I gave a joint presentation with then-Program Director at the GOLD Lactation Conference about Mom2Mom KMC, highlighting strategies we had discovered for building breastfeeding communities.  After that presentation, the board was inundated with requests from military families all over the world asking for help setting up Mom2Mom chapters in their installations.  The KMC board determined that they could not adequately run the local operations and oversee development of new chapters as well.  The board proposed a parent organization to oversee and develop chapters at other installations, and Mom2Mom Global was born.  
I gladly accepted the opportunity to once again grow our organization into a thriving military-wide community of breastfeeding support, education, and advocacy for military families.  I have found a new career that gives me deep joy and satisfaction.  Once again, I am privileged to work with a team of incredibly talented, capable, and resourceful women dedicated to supporting the health and well-being of our military families.  I am tremendously grateful to live in the digital age, where we can operate a fully-functioning nonprofit organization virtually, with board members, volunteer staff, and chapter leadership from all over the globe.  When I think of Mom2Mom Global, I see a beautiful shimmering web of connections, woven around the world from military installations, former members, and supporters who are dedicated to protecting, promoting, and supporting breastfeeding for our military families.  It is my honor, as a military spouse and a breastfeeding mother, to be just one of these countless connections working together to make our military families stronger.       
This post originally appeared on the Mom2Mom Global blog.