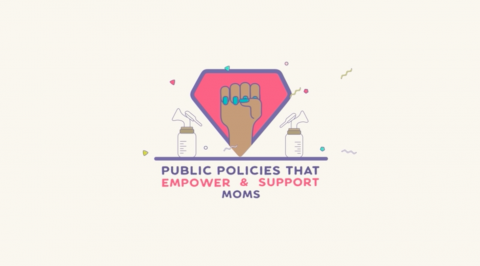 Let's empower breastfeeding moms!
Let's take a good look at the state of breastfeeding across the country. The reality is that while the majority of moms start out breastfeeding, many women stop breastfeeding sooner than they'd like and struggle to meet their breastfeeding goals.
<
Why are so many women falling short of meeting their personal breastfeeding goals and recommendations of public health professionals? There are a number of reasons and we're going to focus on three right now:
Lack of access to paid family and medical leave
Lack of lactation support and education
Lack of workplace accommodations 
When encountering difficulties breastfeeding, many moms may seek support and guidance from lactation professionals, but for low-income women these supports are often inaccessible and unaffordable, even with limited healthcare coverage. not to mention that the Congress' constant back and forth about healthcare coverage leaves a question as to whether coverage is at risk.
Finally, when  they are back at work, breastfeeding mothers often  face another set of challenges: lack of clean and private spaces to express breast milk and inadequate places to store that liquid gold. The Affordable Care Act requires some employers to provide hourly wage-earning and some salaried employees (nonexempt workers) with "reasonable break time" and a private, non-bathroom place to express breast milk during the workday, up until the child's first birthday. While this protects and supports the most vulnerable of workers, this distinction in the law unintentionally excludes "exempt" or salaried employees, causing significant confusion.  In fact, right now 60% of working moms in the United States find themselves pumping in inadequate and even unsanitary places on the job.
What is worse, black mothers have reported greater barriers to breastfeeding compared to other groups, including lack of access to breastfeeding advice and support, discomfort in breastfeeding in public and concerns about lack of paid leave and workplace pumping accommodations. 
Together we can overcome many barriers to breastfeeding!