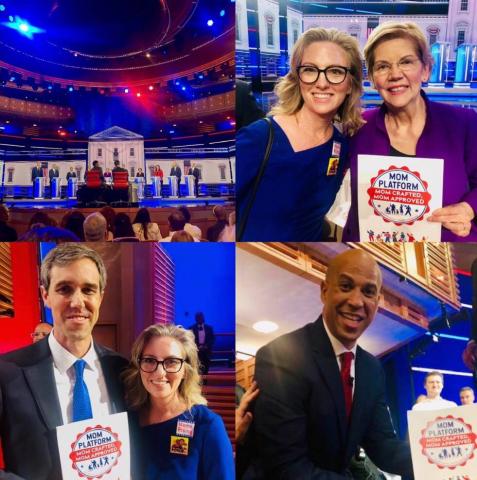 ICYMI: MomsRising at the First 2020 Democratic Primary Debate!
Moms were in the room where it happened last month during the first 2020 Democratic Debate. This is crucial because as moms, we know what's happening in our families, our lives, and our communities. We know we're not alone. We know the truth about dealing with our healthcare system, about the cost of childcare, about what it takes to raise a family. It's time to put our truth on center stage and remind the dozens of candidates what matters to us.  
Here's my take after being in the room with the debaters in Miami: First, it was an incredible honor to be in the room, to witness, and most importantly to be able to deliver the Mom Platform of top issue priorities created by YOU across the nation directly to the candidates in order to help push those urgently necessary priorities forward.
Second, such a feeling of relief to see more women, more people of color, and a greater reflection of who we are as a country on the stage.
Third, I'm LOVING that there are so many candidates and that 20 leaders have enough support to make it on the stage because it shows that there's a strong wave of change that's bigger than any one candidate rising in our nation to sweep in new leadership in 2020 — and also because at this point the candidates are sharpening one another and making each other better leaders as they compete to create the most effective solutions plans.
Want to see the Mom Platform that each of the candidates received last night (and that I like to believe, read during their morning coffee today)? Read it here.
And make sure to join us for a #DemDebate Watch Party on July 30th and 31st using the hashtag #WeCareDebate on Twitter! See below for more specific details.