Great health care news from California!
Five years ago, when my husband was interviewing for his first job as a high school teacher, I remember my parting words to him were, "Go get us some health care!"  Although we knew his teaching salary wouldn't be high, we did expect that the health coverage benefits would ease our financial worries.  At the time, we were new parents who were independent consultants and responsible for covering the costs of our health coverage.  Anything would be better than that situation, right?
He did get that job and we got that health coverage but it didn't reduce our worries as we thought it would.  In fact, our health care coverage costs didn't change much at all.  To my shock, our share of our family coverage through his employer was nearly the same cost as we had paid for individual coverage and the cost-sharing was the same or even more expensive.  Although it cost more than we wanted to pay, our concern about getting denied coverage for an individual plan based on pre-existing conditions (nothing serious but enough to deny us) kept us stuck.
For the first time since that pep talk before my husband's interview, I feel some real hope that our family - and 5.3 million other Californians -  might have some real options and pay less for health coverage.
Last week, Covered California announced that the state's health marketplace would offer health coverage through 13 health insurers throughout the state.  Beginning October 1st, consumers will be able to shop for and sign up for plans that will begin coverage on January 1, 2014.  And, the most important part, the rates are surprisingly low even before the subsidies many families will be eligible for are factored in.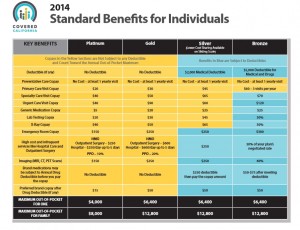 Click here to see Covered California plan options
Here are some examples, which include the costs to consumers after price-reducing subsidies are factored in:
A 26-year-old single mother earning $32,000 a year a with one young child may pay as little as $174/month for a premium "silver" plan
A 45-year-old single father earning $55,000 a year with one teenager and another child in college may pay as low as $343/month  for a mid-level plan with eligible subsidies
A family of four with a combined household income of $70,000 may pay as low as $549/month with eligible subsidies for a premium silver plan.
A 21-year-old foster care youth in college with eligible subsidies may pay as little as $44/month for coverage.
Click here to use Covered California's coverage calculator and see how much you might pay: http://coveredca.com/calculating_the_cost.html
The media covering this announcement agreed that the rates were good news for families.  Forbes said the coverage was likely "far more reasonably priced than you imagined."  Betsy Imholz of Consumers Union shared with NPR, "I'm impressed. I actually think they are good prices."
This is long-overdue and welcome news for Californians who are uninsured or seeking more affordable options.  For me and my family, October 1st can't come soon enough for us to begin comparing coverage options!
Are you counting the days for the Covered California marketplace to open on October 1st?