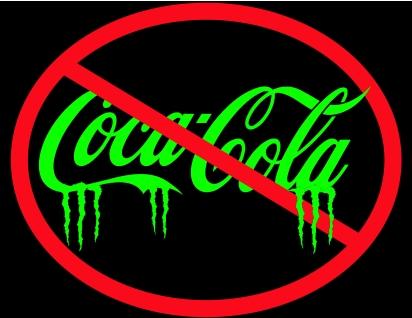 Coca-Cola deal with Monster Energy bad for children
A recent deal between Coca-Cola and Monster Energy reinforces some common challenges that parents face every day:
How do we protect our children from companies that spend so much time coming up with new ways to sell things to our children? How do we keep our children healthy when billions are spent every year marketing junk food to them?
We must take action when we become aware of new threats to our children's health. Case in point: the Coke Monster.
Coca-Cola just purchased a 17% stake in Monster Energy for $2.15 billion dollars. This deal comes at a time when sales of traditional soft drinks are declining for the tenth straight year because parents like you and I are more aware of the health effects of sugary soft drinks. However, sales of energy drinks are on the rise even though they are sugary soft drinks with much more caffeine and other stimulants than regular soda.
The deal is a win-win for both companies. Coca-Cola sees the deal as a way to increase profits and Monster Energy gets to grow both in North America and worldwide through Coke's distribution system.
Tell Coca-Cola to protect our children and drop Monster Energy!
Losers in this deal: (1) children, (2) parents, and (3) overall public health. Medical researchers have shown that energy drinks can cause major health problems, so much so that the FDA launched an investigation. Monster Energy has also been criticized for marketing to children by a U.S. Senate committee as well as a state and city attorney.
Coca-Cola's decision to only purchase a minority stake in Monster was about "protecting the brand and image of the company." But parents don't want this deal to fly under the radar. We are concerned that Monster Energy may become as widespread as Coke. We want parents to understand the public health effects of this deal.
Help us demand that Coca-Cola drop its deal with Monster Energy!
When my oldest son was a teenager he used to always ask for energy drinks. My partner and I would tell him no, saying it was bad for his health. Despite the public health effects of the deal between Coke and Monster, the deal also means children will see more Monster products and more parents will have to say "no" to their children. And as a parent, saying NO can sometimes be the hardest thing to do.
Tell Coca-Cola to drop Monster Energy and stop predatory marketing! Please click here to sign and share our petition: www.NoCokeMonster.org