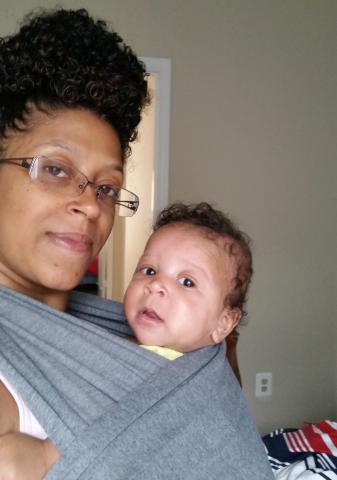 Breastfeeding: It's Not Easy, But So Worth It #BlackBFJoy
So August is National Breastfeeding Month, a time to celebrate to joys and challenges of Breastfeeding. When I was pregnant with my first child and was presented with the question of nursing or formula, I immediately decided that breastfeeding would be best. So I went out and bought books, a manual pump, and did all my research so I would be ready when my baby came. I thought it would be so easy, but it wasn't. When I first tried to nurse my son, my first thought was, "wow this hurts." Luckily, there was a lactation consultant who showed me some techniques to make it easier.
Once we were home from the hospital I tried every different position to get my son to latch on properly, but we still struggled. My milk came in good, but it was a constant battle with a proper latch on. Now I know that he had a tongue tie. We made it 5 months breastfeeding before I had to supplement with formula. I was disappointed I couldn't go longer, but between latching issues and starting back to work it wasn't going to happen. I was grateful for the benefits he received from the short time I was able to breastfeed, like him not getting a cold or illness until well after his first birthday.
I have had 3 more children and with each one it was much better. I am still nursing my fourth and final child, who is 16 months. He shows no sign of wanting to stop, so we will continue. I hope that this will help encourage that mom who is finding their breastfeeding journey difficult. No matter how long you are able to breastfeed your child, they are receiving so many benefits. Whether it is that first milk or you are an extended nurser (yeah that's a word), it is so worth it. The health benefits as well as the emotional ones are well known. So if you take one thing from my story, know that however long you choose to breastfeed you are an awesome mom. It is not easy for everyone but keep at it, and it will get better.