Premature Awareness Month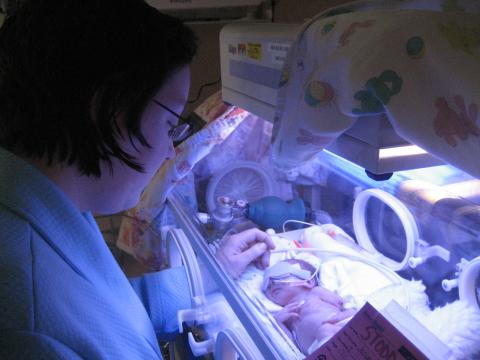 A Premature Birth Can Be Traumatic, Not Having Paid Leave Makes It Worse
Ever since I was little I knew I wanted to have kids.  My husband and I married somewhat young, and we decided to try having kids when we were in our twenties, just in case it might not work out if we tried in our thirties.  With our chosen professions in the food industry, there would have been no way to pay for fertility treatments if we needed them.
When we found out we were pregnant with our oldest child, we were excited but worried about how it would all work out with me going back to work.  I'm a classically trained pastry chef, and at the time, I worked for a large upscale hotel chain. The HR department was actually very helpful with navigating my options. They arranged for new mothers to go on disability leave.  I would get 6-8 weeks of leave with 60-70% of my normal take home pay. I planned to take off at least two months, so I saved up some money to help with the extra time I was going to take off. My husband worked full-time and our rent wasn't too high, so I wasn't worried about being able to pay the bills.
However, even the best laid plans don't work out. I ended up having an emergency C-section at 34 weeks because I developed preeclampsia, and that threw off everything.  My symptoms had a very quick and acute onset: I felt something was wrong on a Friday morning. In the early hours of Monday morning I was in the ER, and my daughter was born that night. I had to be on a magnesium drip to prevent a seizure from the high blood pressure, and I was not very lucid for the 5 days I spent in the hospital. At the time I just went with it and don't remember all of what happened, but I'm still dealing with the trauma of it now, 9 years later. My premature daughter ended up staying in the hospital for 35 days, and I ended up taking off three months instead of two.
I just couldn't see myself going back to work when she was only 2 months old and a preemie at that! Even at three months I wasn't ready to go back to work, but we needed the income.  My 8 weeks of disability pay wasn't very much money at all. I realized I was lucky to get anything, and lucky to count on my job being there when I got back. The hospital bills were piling up for the ambulance ride, the anesthesiologist, the occupational therapist for her evaluations, and more. Every time another bill came, I was afraid of what the amount would be.  Unbelievably, the total cost for her 35-day stay in intensive care was over $250,000. Thankfully I had great insurance, but I still had to pay many thousands of dollars out-of-pocket, mostly for my care at the time of her birth.
We hired a nanny to help take care of the baby in the afternoons because my husband worked mornings and I worked evenings. We had her work about 3-4 days a week because that was all we could afford. We couldn't do a conventional daycare because it was too expensive and we only needed a few hours a day, a few days a week.
When my second daughter was born, I had another C-section and got my 8 weeks of disability pay like before, but I had taken off one month prior to her birth because I just couldn't work anymore.  It was too hard to be very pregnant and work in a busy hotel kitchen, and I was exhausted from having too little sleep and taking care of a toddler as well. I took off two months after the birth this time, and went back to work with little enthusiasm.  We couldn't afford childcare at all, and after a month of playing pass the baby with my husband, I called it quits. I had to stop working. It was just too hard, on everyone.
My story isn't unique. Without access to paid family and medical leave parents are forced to make the impossible choice between caring for their family and providing for them.
The good news is that paid family and medical leave is coming to Washington State in 2020. Which means birth parents can receive 16 weeks of combined paid family and medical leave (and adoptive and foster parents can take up to 12 weeks of family leave). And if birth parents experience pregnancy complications, like I did, they can take an extra two weeks of paid leave in a year. If I had had 16 or even 18 paid weeks off of work, that would have been a huge stress off of my mind!
One of the hardest things to deal with when you miss work is the lost income. Rent still needs to be paid, groceries still need to be bought, the car still needs gas. We had to use credit cards to make ends meet, and we went into debt because of it.  If I hadn't had to worry about income, I could have focused more on bonding with my baby, and taking the time necessary to rest and recover well. And even though you are missing work, it's because you just had a baby! A time of supposed joy and happiness that is marred by the stress of not having enough income to make ends meet.  No new parent should have to go through that. And with paid family and medical leave, they won't have to. Learn more about the program on MomsRising's blog and the Employment Security Department's PFML website.