Part 6 of 6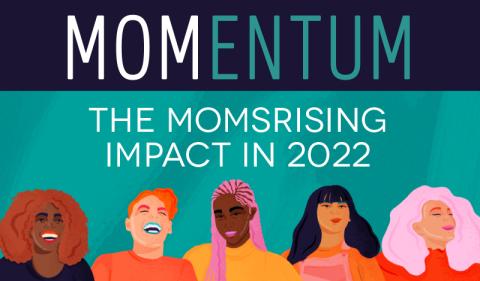 2022 IMPACT: Narrative Shifting
Welcome to MOMENTUM: The MomsRising Impact in 2022, a report highlighting the victories, progress, and power-building achieved by the MomsRising community in 2022. 
PART 6: Narrative Shifting
---
NARRATIVE SHIFTING
MomsRising played a strong role in educating the public, media, and leaders about programs and policies that lift moms and families at the federal, state, and local levels, and shifted the national narrative so the need for a care infrastructure was on center stage.
2022 EARNED MEDIA 
To build MOMentum for change, and to shift the national dialogue in support of family-friendly policies, MomsRising generated nearly 4,000 earned media moments in 2022 alone and injected mom-focused stories into national and local media coverage. MomsRising was mentioned in the media 3,999 times with a reach of 8,600,000, including:
"The pandemic has laid bare the disaster of our country's lack of a care infrastructure that has turned endemic." – Kristin Rowe-Finkbeiner

 
"The past two years prove that we can provide free school meals. Why would we stop?" – Monifa Bandele

 
MEMBERS IN THE MEDIA IN 2022
MomsRising trained and empowered our members so their voices and stories could be heard – and help shape the national narrative and policy change – time and time again in the media. To that end, MomsRising generated 1,866+ media moments for our members to directly share their experiences with a reach of 5,600,000, including:



"[Capri] had to leave her job...'There is not a single certified child care space.'" – MomsRising member
Capri Jackson



"I think moms feel very alone and very left behind by society, by government, by our communities." – MomsRising member Mary Catherine Staff



"Do our elected leaders know how it feels to choose between food and medicine? I do." – MomsRising member Angelina Scott (pictured below)
SHARING STORIES DIRECTLY WITH ELECTED LEADERS IN 2022
Personal experiences are powerful and often make a huge difference in moving much-needed policy changes forward, including in helping elected leaders understand how public policies impact families. Eager to speak the truth, MomsRising members submitted thousands of written and video personal stories in 2022. We worked to empower our members and included many of these stories in 11 powerful storybooks sent to the White House, members of Congress, and members of state legislatures. The storybook topics included abortion, hunger, child care, and child tax credits.
We also trained, supported, and empowered our members to share their stories in hearings and other live events with lawmakers where their experiences directly helped shape public policy.
MomsRising member Rosa Walker testified before a House Budget Committee about the investments that Congress must make to help families like hers recover from the pandemic.
"Congress still hasn't guaranteed workers paid family and medical leave... My family, like so many others, is struggling."
HUNDREDS OF LIVE ONLINE EVENTS REACHING 350,000,000+ IN 2022
To help shape the national narrative and move much-needed change, MomsRising led and partnered on hundreds of live online events on Facebook, YouTube, and Instagram, plus our weekly podcast and radio program. These online events educated, engaged and mobilized the public with an audience reach of over 350,000,000 people. Highlights include:
The Parent Voices Town Hall in May featured a panel discussion of parent experts sharing their stories about being parents and advocates of children with disabilities or developmental delays. Produced in partnership with Start Early, UPLAN, the Partnership for America's Children, the Educational Equity Institute, and state partners, the Town Hall highlighted why parent voices must always be involved in policy-making decisions.
NJ Senator Cory Booker was one of the 40 members of Congress who participated in the MOMibuster.
The Mother's Day MOMibuster – a filibuster by and for moms and families urging Congress to build the care infrastructure that moms and families, businesses, and our economy need – was a spectacular success. Co-sponsored by more than 100 organizations, the MOMibuster included hundreds of video stories of moms, dads, care workers and caregivers, as well as more than 40 members of Congress and many leaders.