Part 3 of 6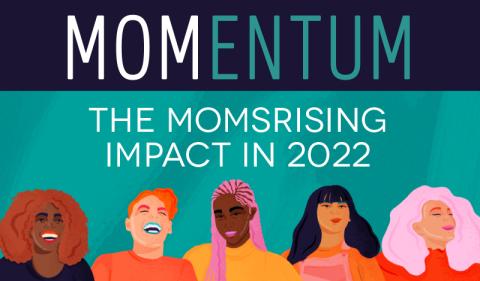 2022 IMPACT: Increasing Mom Voter Engagement
Welcome to MOMENTUM: The MomsRising Impact in 2022, a report highlighting the victories, progress, and power-building achieved by the MomsRising community in 2022. 
PART 3: Increasing Mom Voter Engagement
---
INCREASING MOM VOTER ENGAGEMENT
When democracy needed it most, MomsRising supporters stepped up in a massive way to powerfully get out the Mom Vote for the 2022 midterm elections. Our "Be a Voter, Raise a Voter" Moms Vote program crushed records for volunteering, reach, and turnout.
The most impressive stat, over 64,000 volunteers made it happen, writing nearly a million postcards to low-frequency Mom Voters, sending texts, making phone calls, and running local events to get Mom Voters the information they needed to vote. These activities included volunteering at kid-friendly Treasure Boxes near polling places in New Hampshire, North Carolina, and Pennsylvania so moms could take their kids to vote with ease.
Together we are bringing forward powerful voters, building long-term voter engagement, and sparking a movement
for change.
MamásConPoder: Getting Out the Latina Vote
MomsRising's Spanish-speaking community, MamásConPoder, creatively mobilized over a million Latinx voters, including in Arizona, North Carolina, Pennsylvania, and Georgia, for the 2022 midterms.
MamásConPoder Vice President Xochitl Oseguera at one of 12 powerful MamásConPoder voter information events in Arizona.