Part 5 of 6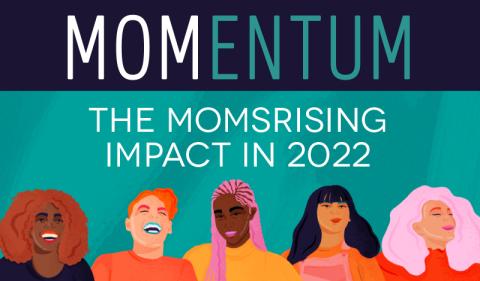 2022 IMPACT: Building State Power
Welcome to MOMENTUM: The MomsRising Impact in 2022, a report highlighting the victories, progress, and power-building achieved by the MomsRising community in 2022. 
PART 5: Building State Power
---
BUILDING STATE POWER
MomsRising works in targeted states to organize women, moms, and families on issues that matter most to them and open avenues for the voices of busy parents to be heard and have an impact in powerful ways.
2022 state highlights include: 
NORTH CAROLINA TACKLES HUNGER
North Carolina MomsRising made significant MOMentum for its anti-hunger work, launching the second Anti-Hunger Advocacy Fellowship, a leadership training program for people who are struggling to put food on the table. Fellows shared stories and ideas and built advocacy power together. Additionally, fellows shared their anti-hunger storybook with North Carolina members of Congress, participated in the White House Conference on Hunger, and generated ideas for the Biden-Harris National Strategy on Hunger, Nutrition, and Health, a blueprint for ending hunger and healthier eating.
North Carolina Anti-Hunger Fellow Kyler urged lawmakers to support families struggling with food insecurity.
NEW HAMPSHIRE CONNECTS CAREGIVERS
New Hampshire MomsRising continued to develop long-term local leadership by building an empowering state fellowship program, with a specific focus on building a community of and for caregivers. Since 2020, Granite State Fellows have placed 54 publications in papers, taken more than 12,000 online actions, and participated in a host of in-person and virtual events with elected officials. These parent leaders have become beacons of hope in their communities, advocating for change, joining school boards, changing career paths, and assisting each other.
MomsRising's Granite State Fellows and staff are building a welcoming community for caregivers.
WASHINGTON RALLIES FOR EARLY LEARNERS
Washington State MomsRising formed the Fair Start for Kids Brigade to help get the word out about the new, expanded childcare benefits for parents from the state's new Fair Start for Kids program, the largest investment in early learning in Washington state history. Local MomsRising volunteers wrote letters to the editor advocating for the program and sent more than 6,000 handwritten postcards to parents describing the new law, how it can help their families, and how to get the benefits.
MomsRising member Thelma de Castro helped spread the word about affordable child care in Washington state.
PENNSYLVANIA HELPS MOMS VOTE
Pennsylvania MomsRising volunteers helped inspire Mom Voters to vote, get people the information they needed to cast a ballot and make voting a fun family event by staffing Treasure Boxes at polling locations across Pennsylvania on Election Day. The volunteers handed out small toys, voting-related children's crossword puzzles, and coloring pages in English and Spanish that said, "My mom is a superhero. She voted!" in order to entertain kids while moms voted.
MomsRising PA member Stephanie Lane.
FLORIDA STANDS UP AT THE SCHOOL BOARD AND WINS
Florida resident and MomsRising Early Learning National Director Nina Perez won a local Duval County Florida School Board campaign by utilizing tried and true MomsRising organizing strategies. The Duval County School Board was under pressure to remove its health curriculum due to references to LGBTQ+ youth. In partnership locally with Public School Defenders, MomsRising helped mobilize local parents and students who rallied, submitted comments, and ultimately swayed the Board to keep the LGBTQ+ youth references. This campaign is now providing a blueprint for organizing parents at the school board level and promoting inclusive education.
MomsRising Early Learning National Director Nina Perez (pictured left) rallied local parents and students to support inclusive education in Duval County.