MomsForce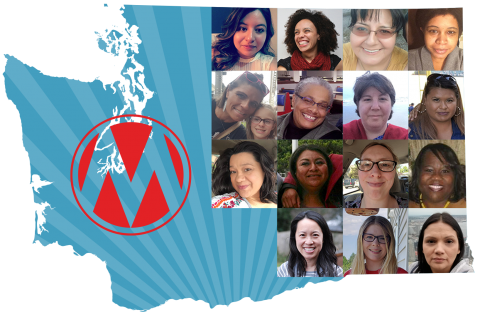 15 Moms Who Are Putting Policies to Work for Families
To mother is to transform. Each and every day moms are shaping a more just future for us all through small and big acts alike -- whether it's helping a tantruming toddler understand their feelings or advocating for their community with elected leaders, moms have superpowers that move us all forward.
Here in Washington State, we've made important progress advancing policies and programs that help build resilient children, families, and communities. But there's a lot more work to do. 
That's why MomsRising and MamásConPoder is launching the bilingual Washington MomsForce Fellowship. WA MomsForce Fellows will use their superpowers to put policies to work for working families. The 15 MomsForce Fellows for our inaugural cohort are:
Rosalba Bacilio of College Place
Cori Domschot of Olympia
Claudia Franson of Vancouver
Tienaya Godes of Spokane
Diana Gonzalez of Des Moines
Zandrea Harlin of Seattle
Yolanda Herrera of Centralia
Melody Ip of Renton
Tina Keys of Issaquah
Lupe Mendoza of Walla Walla
McKyndree Rogers of Spokane Valley
Darsheen Sargent of Seattle
Carolyn Solitaire of Tacoma
Clara Vasquez of Sunnyside
Heather Wallace of Spokane
Over the next year, these remarkable moms will build solidarity, power, and capacity in their local communities. They will capture the strength of their experiences as mothers to advocate for policies that meet the unique needs of their communities, and they will make sure that policies that have passed into law are delivering on their promises -- all with a focus on meeting the needs of families most directly impacted by racism, poverty, and other forms of oppression, first. 
Together, WA MomsForce Fellows will help families reap the benefits of Washington's brand new Paid Family and Medical Leave program beginning in January 2020. They'll also share their stories related to early learning and childcare; tax justice; workers' rights; and other policies that, all together, form the essential building blocks for healthy and thriving children, families, and communities.
Nobody knows the needs of families quite like moms. And nobody can inspire change quite like them either. These 15 moms might not wear capes, but they're certainly powerful and they're ready to change our world!