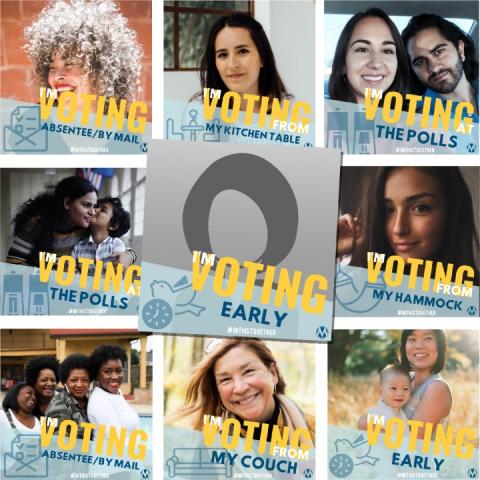 It's 2020. Pretty much NOTHING is going as planned this year.
But that doesn't mean we can't turn this trend around -- and make a plan to VOTE THE WAY YOU WANT TO THIS YEAR!
Vote with popcorn on your kitchen table. Vote early if your state allows. Vote in a hammock by mail. Vote in-person on November 3rd with a facemask. And get the kids in your life involved! "Be a voter, raise a voter" is a motto so many of you have brought to life! Have kids join in as you do your civic duty no matter how you vote. They can read books or color these pages and do voting -friendly crafts. And generally have fun with you as you're voting!
→ And after you make sure you're registered to vote & have your voting plan complete, you (YES, YOU!) can inspire other moms to vote -- and help increase voter turnout -- by using this frame on social media right now to celebrate National Voter Registration Day!: https://share.momsrising.org/v16/
2020. IS. A. YEAR. And fortunately, there are a lot of safe voting options this year. To exercise any of these options, we each need to make a plan to vote NOW -- starting with double triple checking that you're registered to vote!
*Go here to double check that you're registered vote, get a vote-at-home ballot if that's an option in your state, or find out where to vote in-person near you, and get going on making your plan to vote: https://action.momsrising.org/signup/ballotready_future/
Last thing to do? It's easy! Think of three friends or family members who could use this information and share this email with them! If everyone receiving this email does this, we can reach thousands of people who need that one last bit of encouragement to vote!
THANK YOU. Together, we are strengthening our democracy for ourselves and future generations.