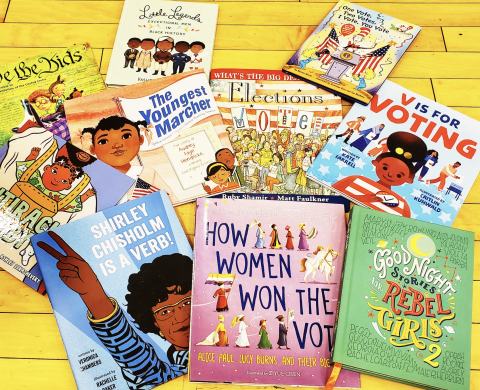 Books for Raising Voters, Advocates, Activists, Future Presidents
As parents we know it can be hard to find creative and age appropriate ways to discuss social justice and all the uncertainty in the world with our children. 
Finding quality material to engage your kids in social activism, voting and other social justice issues can be overwhelming, and daunting especially if you're unsure of where or how to start.
Most of us were not raised with age appropriate books on the electoral college, the process of voting or even who can vote! Fortunately we have the power to change that with our own children. 
We thought it was high time we made a list of books to share with kids of all ages!
During this election season as ads roll out, and children are more tuned in to their parents conversations as we are all doing some form of distance learning from home. Why not shake up the curriculum with some new books on subjects we may not be well versed in that allows our children to learn beyond the "required reading". 
We reached out to our staff to check in and see what books they recommend and boy, did they come through with a comprehensive list!
Duck For President by Doreen Cronin was a popular favorite among those with elementary school age children while A is for Activist is a great start for younger children.
Our Senior Vice President for Workplace Justice shares that Grace for President is a favorite of her daughters, " We love Grace for President. Love it because it helps explain the electoral college, because it shows campaigning, and not giving up, messaging, and of course most of all because it's a girl running and winning."  
We can definitely get behind that sentiment!
Below you can find a list of some of our personal favorites and be sure to check back as our list keeps growing!
Marley Dias Gets it  Done by Marley Dias
Duck For President by Doreen Cronin
Grace For President by Kelly DiPucchio and LeUyen Pham
Ruby Mae Has Something To Say by David Small 
Goodnight Stories for Rebel Girls
A is for Activist by  Innosanto Nagara
V is for Voting by Kate Farrell
The Youngest Marcher by Cynthia Levenson 
Citizen Baby ( a series) by  Megan E. Bryant  and Daniel Prosterman 
March (a comic book trilogy) by John Lewis 
Be Bold Be Brave! 11 Latinas Who Made U.S. History 
Juana Ines by Georgina Lazaro
Click Clack Moo Cows That Type by Doreen Cronin
This is by no means a comprehensive list as we are always discovering new books from our staff and members!
We hope you find this list helpful and let us know what books you've already got or plan to add to your library!
Happy reading!