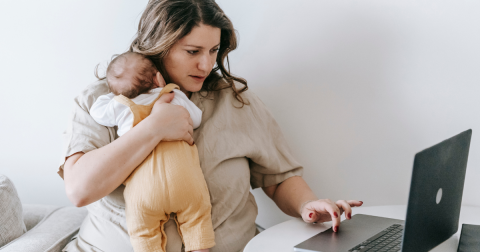 Your top #5Actions for this week: Friday, September 16, 2022
Your voice is as important as ever, and we have several actions on a wide range of topics that we need your help with in this week's #5Actions.
You can make a difference by signing these actions and sharing your stories on issues like student loan forgiveness, marriage equality, the importance of child care, paid family/medical leave and asking Biden to put an end to Title 42.
Please sign and share and thank you again for all you do!
-- Sue Anne, Kristin, Elyssa, Diana, Ruth, Felicia, Claudia, and the rest of the MomsRising.org & MamásConPoder Team
Paid family leave for all, now
Here are the facts: Right now only 19% of working people have access to paid family and medical leave through their employers. Unpaid leave under the federal Family and Medical Leave Act covers just under 60% of working people BUT the fact that it is unpaid means it's not usable for working folks who cannot afford to take unpaid time away from work - especially now.
Tell Congress: Unpaid leave means no leave - and they MUST pass paid family and medical leave for all working people.
Quick signature: Do Not Let Families Lose Critical Home Visiting Services
Every five years, the MIECHV funding program must be reauthorized (i.e., re-negotiated and committed to) by Congress. The MIECHV program was last reauthorized in 2018 at a funding level of $400 million a year and is set to expire at the end of this month. If this program is not reauthorized by September, funding is not guaranteed, which would leave 140,000 parents and children in 1,054 counties across the country without vital home visiting support.
Add your name! Tell your lawmakers to increase Maternal, Infant & Early Childhood Home Visiting (MIECHV) funding and expand the program to help support more babies, families, and providers.
Parents to U.S. Senate: Protect marriage equality
Good news! We are incredibly close to passing the bipartisan Respect for Marriage Act in Congress, which would codify federal marriage equality for the LGBTQIA+ community. We just need your help getting it over the finish line!
****Sign our letter now and tell your U.S. Senators to guarantee marriage equality and vote YES on the Respect for Marriage Act!
Tell us: What are your child care needs right now?
As we plan the next year of our child care work and increase our pressure to get solutions to the ongoing crisis, we need to hear from you: what are your child needs right now? How are you planning your child care and aftercare for the new school year? Are you struggling to pay for child care? Do you have a pre-k you love? Has your child not been able to secure a pre-k spot? Are they experiencing long waitlists or staffing issues? We want to know all of it, so we can let legislators know: child care is still a struggle and we need them to invest in child care.
Got child care struggles? Your lawmakers need to know!
Sign & tell Biden to end Title 42!
Latest news reports show that the Biden Administration is considering expanding Title 42 to include Venezuelans, Cubans, and Nicaraguans. This is a step in the wrong direction! And we must voice our opposition before plans are finalized! No asylum-seeking person or family should be forced to return to the dangerous conditions from which they fled without a proper hearing. Title 42 is not, and never has been, a public safety measure. It is a cruel, dangerous Trump policy that should be ended for all children and all adults. There is no justification for putting asylum seekers in harm's way. Make sure you sign this petition so we can get President Biden to end this cruel Trump-era policy once and for all!
Sign to end this Trump-era policy!
P.S.– What does student loan forgiveness mean for your family? Tell us about it by recording a short video!