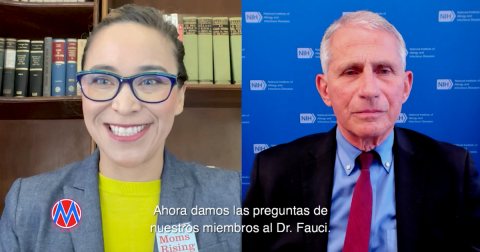 Your top #5Actions for this week: Friday, July 9, 2021
As American families work to recover from the pandemic, we need your help in making sure Congress and the Biden administration prioritizes policies important to that recovery. And the time is now! Congress is putting together their next package right this moment, so your voice is urgently needed on the actions below.
There are #5Actions ready for you to take including getting the information you and your friends need about the COVID vaccines directly from Dr. Fauci, making the Child Tax Credit permanent, closing the healthcare coverage gap, strengthening our childcare infrastructure, and others.
We appreciate you and all you do!
-- Sue Anne, Felicia, Elyssa, Nadia, Ruth, Kristin and the rest of the MomsRising / MamásConPoder Team
Got COVID-19 vaccine questions? We've got answers!
Dr. Anthony Fauci, the Director of the National Institute of Allergy and Infectious Diseases at the NIH, and the chief medical advisor to President Biden, is answering COVID-19 vaccine questions that have come straight from MomsRising members.
Quick signature: Tell Congress to close the health coverage gap!
The COVID-19 pandemic has shown how important it is for people to have health care coverage, especially in communities where large health disparities have long been present. However, the fight against expanding health coverage is still alive and well in over a dozen states as their legislatures refuse to adopt (or in some cases implement) the expansion of health care to low-income uninsured adults.
These twelve non-expansion states are primarily in the South, where the majority of uninsured people are Black, Hispanic, or Asian. We need a federal solution to help get health coverage to the more than two million people in the Medicaid coverage gap who live in these non-expansion states.
Quick signature: Tell Congress to close the coverage gap for people in states that refuse to expand Medicaid!
Tell Congress: We Must Build Back Better for Women & Families!
An infrastructure package without sufficient support for paid family leave, child care, health care, and family care is not a complete package. As Congress takes up President Biden's Build Back Better plan, we need our members of Congress to prioritize women and their families in all upcoming legislation. We need a big, bold infrastructure package that prioritizes:
Permanent paid family and medical leave
Invests at least $700 B to direct spending for comprehensive child care and early learning systems that children, families, early educators, providers, employers and communities need to grow and thrive
A permanent expanded child tax credit
Protects reproductive rights and invests in affordable health care
Add your name to our letter urging Congress to include paid leave for all, robust investments in child care, making the child tax credit permanent, and protecting our reproductive rights and affordable health care in the infrastructure package.
Urge Congress to Pass the Black Maternal Health Momnibus in the American Families Plan!
The United States is currently the most dangerous place to give birth in the developed world, with major racial disparities where Black women lose their lives at 3 to 4 times the rate of white women due to maternity-related causes, independent of age, economic background, or education, a fact that has done unchanged for several decades. The Black Maternal Health Momnibus takes urgent, serious action to end this crisis and is being included in President Biden's American Families Plan.
Tell Congress, support the most comprehensive legislative effort yet to address the Black maternal health crisis in America!
Tell Congress: Make the expanded Child Tax Credit permanent!
We have exciting news for you! Starting on July 15th, you could be getting up to $300/month per child because of the expanded Child Tax Credit (CTC). (If you've filed taxes in the past two years or received a stimulus check you'll get this money automatically!). That's some serious cash that will do some serious good in helping our families make ends meet during this difficult time. How much good? It will cut child poverty in half!
But unfortunately all the great improvements that have been made to the CTC will go away after a year unless Congress takes immediate action and makes it permanent.
We need YOU to take action! SIGN OUR LETTER and tell the U.S. Congress to make the improvements to the Child Tax Credit permanent immediately!
P.S.– Child care is a winning strategy for America's families, which is why we need to call on Congress ASAP to be the champions of a child care infrastructure that can enable our nation to recover and thrive! As we speak, our elected leaders are in budget conversations and we need to make sure they hear our outside voices loud and clear if we want child care included. Congress needs to get into the spirit of supporting moms and caregivers who have too often been asked to take one for the team as they've struggled to balance child care and the ability to financially support their families. Now, as we move toward a national recovery we finally have a chance to fix this child care crisis for good! SIGN NOW to tell Congress: It's time to show our winning colors by building real child care infrastructure that works for babies, kids, families, and early educators!
P.P.S.– Join MomsRising and our partners on July 15th for a virtual rally to celebrate the arrival of the monthly Child Tax Credit checks! MomsRising's Executive Director Kristin Rowe-Finkbeiner and five MomsRising members from around the country will be talking about what the Child Tax Credit means to our families and all the hard work moms have done to make this moment happen! We also will be joined by Senator Elizabeth Warren (MA), Representative Barbara Lee and Rosa DeLauro, The Poor People's Campaign Co-Chair Reverend William Barber II, and many others to talk about what a historic moment this is for our families! Join us for FAMILY MATTERS: A Celebration of the Child Tax Credit emceed live by Dorian Warren and Melissa Harris Perry on July 15th at 2pmET. RSVP here