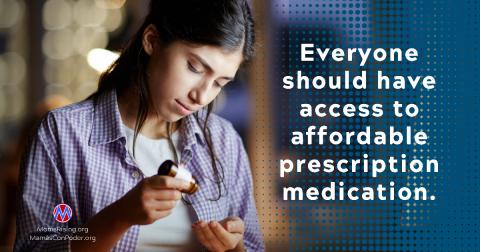 Your top #5Actions for this week: Friday, July 23, 2021
It continues to be a busy summer, and we want to make sure that Congress and the White House remain focused on the priorities that matter the most to American families, businesses and economy. We have #5Actions for you to take this week on health care, prescription drug prices, childcare and paid leave so you can help make sure that happens!
-- Sue Anne, Elyssa, Felicia, Nadia, Tasmiha, Namatie, Nina, Nadia, and the rest of the MomsRising / MamásConPoder Team
Quick signature: Tell Congress to increase funding for HCBS!
As parents, we all want our children to grow up as healthy as possible and find their place in the world. We want our babies to thrive as they become children, teenagers, and eventually adults, and to be wholly included in our communities.But for many families who have kids and adults with disabilities, this shared hope can be a monumental struggle without the right kind of support and services. That's why we need Congress to take action to improve our long-term care system to enable kids and people with disabilities, as well as older adults, to live safely at home and thrive in their communities.
Tell Congress to include $400 billion for Home- and Community-Based Services as part of our care infrastructure.
QUICK SIGNATURE: I Scream, You Scream, We All Scream for Paid Leave
Nothing says summer like an ice cream sandwich and there's nothing more American than being in the sandwich generation. Being in the sandwich generation means that sometimes we're pressed between caring for a critically ill aging parent and welcoming a new child simultaneously. Through it all, having access to paid family and medical leave is vital. This summer we have a chance to pass paid family and medical leave and bring relief to sandwich generation families struggling with being there when a new child arrives or in a moment of critical illness for an older adult or yourself. Paid family and medical leave is critical for the economic security and well being of our families. It is key to bettering businesses and our economy and will lead to long term health and stability for our nation. Let's pass paid leave this summer.
Tell Congress to Pass Paid Leave for All!
Make the call to #SolveChildCare!
Right now, Congress is rapidly finalizing the details of the budget that will determine how much funding we have for child care and early learning. This is a crucial week to let Congress know that we need sufficient funding for child care and early learning so that: (1) No family pays more than 7% of their income on child care, (2) Child care providers are paid living, family supporting wages, and (3) Families can find affordable, high-quality child care no matter where they live. Child care is the very backbone of our economy, a public good that all of us benefit from whether or not we have young children. Without child care, our families, our communities, our businesses, and the economy would not function. 
Grab your phone right now and call your member of Congress by texting "Childcare" to 747464 and tell them to leave the games to the kids, we need big investments in child care NOW!
Text "Childcare" to 747464 and tell Congress know to stop playing games and #SolveChildCare!
QUICK SIGNATURE TO CONGRESS: Leave the games to the kids, we need child care NOW!
Child care is a winning strategy for America's families, which is why we need to call on Congress ASAP to be the champions of a child care infrastructure that can enable our nation to recover and thrive! As we speak, our elected leaders are in budget conversations and we need to make sure they hear our outside voices loud and clear if we want child care included. Congress needs to get into the spirit of supporting moms and caregivers who have too often been asked to take one for the team as they've struggled to balance child care and the ability to financially support their families. Now, as we move toward a national recovery we finally have a chance to fix this child care crisis for good!
SIGN NOW to tell Congress: The lack of child care is NOT a game, we need child care now!
Quick signature! Tell Congress to lower drug prices now!
We are delighted that President Biden issued an Executive Order this month to help lower drug prices. This is a great start! But this order alone won't fundamentally solve the problem of price gouging by pharmaceutical companies that have monopoly power to set and increase prices whenever they want. While the new Executive Order helps, there are limits on what drugs can be imported, and competition alone won't make drugs affordable for many people given that many drugs don't have generic versions or enough generics on the market to bring down prices. Thus, there is still a lot of work to do when it comes to prescription drug affordability for families.
Tell Congress to take action to lower prescription drug prices NOW!