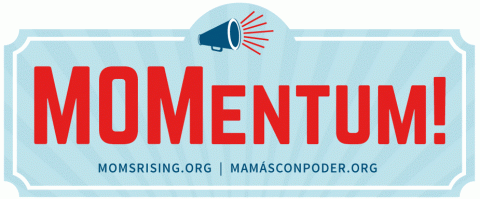 Your March MOMentum: Women's History Month and more!
Women's history can and should be celebrated all year long, but we turned up the volume in March for Women's History Month! We start with a BIG victory — together we're making history ourselves as JP Morgan Chase and Wells Fargo withdraw from financing the private prison industry after months of MomsRising's leadership with the Families Belong Together coalition. And we're keeping up the drumbeat for gun safety — together we can win! Check out all the good news below.
P.S. As always, we love to hear your feedback. What do you love about being a MomsRising supporter? What do you think we should tackle next? Send your thoughts to me, anita@momsrising.org. Thank you!
PRIVATE PRISONS
YOU DID IT!
After months of pressure from the MomsRising community and our allies, Wells Fargo and JPMorgan Chase announced that they will "no longer bank" private prisons that profit off mass incarceration and the pain and suffering of immigrant children and families.
Your support of MomsRising helped us lead the Families Belong Together coalition that secured this victory, from drafting and hand delivering the petition to Wells Fargo and JPMorgan Chase, to organizing a massive national day of action at local bank branches throughout the country.
Thank you!
BACKGROUND CHECKS
IT'S ABOUT TIME!
Pushing past years of frustrating inaction addressing gun violence by lawmakers, the MomsRising community is celebrating the passage of H.R. 8, the House of Representatives' Bipartisan Background Checks Act of 2019, with a strong, bipartisan vote of 240-190. Your generosity helped us mobilize tens of thousands of MomsRising members to sign petitions, attend rallies, email and visit their lawmakers, and make progress.
But of course, passage by one chamber is not enough. The MomsRising community continues to press for U.S. Senate passage of the bill and for other sensible gun safety reforms.
MEDIA SPOTLIGHT
Letter to the Editor
Denver Post, March 21, 2019
On paid family leave in Colorado: "As parents, we should not have to choose between caring for a newborn child and returning to work for fear of losing our jobs or not being able to pay the bills...The Family and Medical Leave Insurance (FAMLI) Act would help working families like mine by guaranteeing paid family and medical leave...we need our state Senate to now pass this critical bill."
— Natalie Henderson, MomsRising member
True Democracy is Loving Your Country Enough to Criticize It
Daily Freeman, Feb. 24, 2019
On ending the school-to-prison pipeline: "We should be...providing teachers with resources to teach social-emotional learning, and providing schools with social workers, full-time nurses and other resources to achieve the overarching goal of keeping students in school instead of criminalizing them."
— Beatriz Beckford, MomsRising Campaign Director
MEMBER LOVE
Members share how MomsRising is a positive force in their lives
"I support several progressive organizations. MomsRising texting and emailing system to elicit direct call is far superior to the others. I consistently respond to yours. You know your audience: busy moms and busy women. I know I can advocate within two minutes. DONE!"
— Kathy
"I was inspired when [MomsRising campaign director Tina Sherman] spoke about the importance of being present and using your voice to advocate for others that are not present at the table. I never thought of how much power I have."
— Student at University of North Carolina School of Social Work
Tell us, what does MomsRising mean to you? Send your comments to anita@momsrising.org.
COMING SOON
April 2 | Equal Pay Day at your local coffee shop
Our informational custom napkins and coffee sleeves will be in over 40 coffee shops/restaurants across 12 states for Equal Pay Day. Check out the list of participating coffee shops; there may be one near you!
April 9 | NC: Strolling Thunder: A Think Babies™ NC Advocacy Day, 10AM-1PM
It's a playdate with a purpose! The story time, crafts, and activities will happen on the lawn between 10:00-11:30. After that, we will begin deliveries to lawmakers' offices. Come for however long you can! RSVP here.