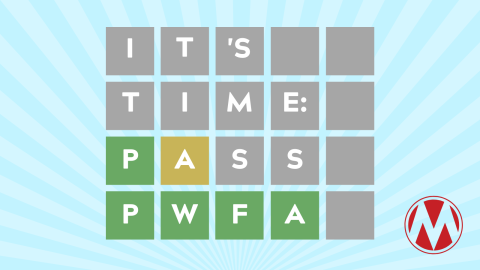 You can help pass the Pregnant Workers Fairness Act via your local newspaper!
We're so close! Your continued support for the Pregnant Workers Fairness Act has helped propel this much-needed legislation farther than ever in Congress, with massive bipartisan support.
Last year, the U.S. House of Representatives and an important committee in the U.S. Senate passed the bill with flying colors, but it still hasn't crossed the finish line to become law. That's where you come in!
Members of Congress and their staff regularly read the local newspapers from their home districts and states to stay in touch with what their constituents care about and want them to prioritize.
Using our easy online tool, can you submit a letter to your local paper about the importance of the Pregnant Workers Fairness Act? We will walk you through each step and provide sample content and talking points!
>>> Why now? This month, Congress is preparing to pass an omnibus government funding bill. Since the omnibus is actually a package of several bills, our Senators and Representatives have the opportunity to add the Pregnant Workers Fairness Act to the package!
NOW IS THE TIME to make sure our U.S. Senators and Representatives prioritize the rights and dignity of pregnant workers in the omnibus! 
CLICK HERE to send your local paper a letter about the Pregnant Workers Fairness Act. Letters to the editor are a powerful way to apply public pressure from afar!
The Pregnant Workers Fairness Act (S. 1486) will require employers to make the same sort of accommodations for pregnant workers that are already made for employees with disabilities. These accommodations are simple things like being able to sit down while working or have a water bottle on shift. 
As you can imagine, pregnancy push-out on the job has dire consequences for a family's financial security because it can leave pregnant workers without a paycheck at the moment they need it most. Overrepresented in physically demanding jobs, women of color and immigrant women are especially impacted by employers refusing to accommodate pregnant workers with medical needs.
Nobody should ever have to choose between their job and the health of their pregnancy, but too many workers still face this impossible choice today.
Be sure to submit your letter to the editor now with just a few simple steps. Using our online platform to do this makes it fast and easy to do this high impact activity!
While all decisions around pregnancy and parenting are valid, nearly 85% of women and many non-binary people will become parents at some point in their working lives. By continuing to work, pregnant workers can generate critical income while gaining seniority on the job. But when pregnant workers are fired for requesting reasonable and medically-necessary accommodations, their financial wellness suffers and they struggle to re-enter a job market that is often biased against pregnant people and new parents.
In a time when economists and employers are focused on increasing labor force attachment across the board, the Pregnant Workers Fairness Act should be passed without delay as part of the omnibus package!
Thank you for taking action. Together, we can move mountains to #ProtectPregnantWorkers!