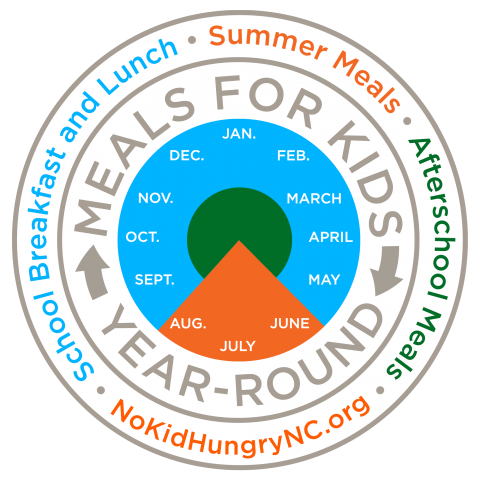 Year Round Meals Help Prevent Child Hunger During Holidays
Here come the holidays…again. 
Sorry for the bah humbug…but schools are closed. Many of us are laughing, celebrating with our families…and feasting – while others are not. 
In North Carolina, the harsh reality for many children in our state of agricultural abundance is: The cupboards at home are bare and refrigerators are not over-stocked. Kids rely on school meals. 
But what happens during the holidays? And what about during spring break, weekends, summer break and any time school is out or after the school day ends? Kids still need healthy meals. Yes, there are SNAP benefits and other federal nutrition programs, but there are huge gaps in coverage, and the dollars often end before the month does.
Almost 60% of our 1.5 million K-12 NC public school students are eligible for Free or Reduced-Price school meals, which are federally-funded child nutrition programs, as covered recently in Jessica's blog post. Counting younger siblings, almost ONE MILLION North Carolina children likely need better access to healthy meals.
Good Tidings of Great Joy
Few realize the fact that our tax dollars have already paid for programs to keep all these kids well fed! EVERY DAY of the year. 
Year-Round Meals: Federally-assisted child nutrition programs (school lunch and breakfast, afterschool and summer meals) can provide three healthy meals and snacks every day. The dollars flow from our taxes, to Congress, to USDA, to state agencies, to schools and other community organizations that participate in the federal programs to provide nutrition to our kids. 
During the holidays one of these programs can continue to serve free healthy meals every day. In fact, during the school year – free meals can be served weekdays, weekends and spring break. It also serves supper after school.  It's called the At-Risk Afterschool Meals program that is part of the Child and Adult Care Food Program (CACFP). Long name but important program that serves kids and teens ages 18 and younger in eligible areas and where enrichment activities are being offered.
Be an Advocate.
Sadly, the programs are greatly under-accessed. But you can help.
For Out-of-School Meals: 
Reach out to your school district leaders (talk to your principal, district superintendent, school board, or school nutrition team) and ask them to consider serving free afterschool meals. Remind them that this program can bring free meals to kids after school and 7 days a week throughout the school year.
Summer meals help fill the gap when school ends. Spread the word that anyone can find free summer meals for children ages 18 and under by texting FOODNC to 877-877. (Text feature only operates June-August each year.) And if you know of a summertime program in a low-income community where children are, direct the organization to learn more about how to serve free summer meals.
For School Breakfast: Talk with educators about making school breakfast more accessible. Serve it to all students, after the school day starts; and move it out of the cafeteria and into the classroom. Almost a quarter of our NC public schools are serving breakfast in an innovative way that helps kickstart thousands of kids' minds and bodies.
Have your child eat school meals. 
Research shows that lunch from home usually is LESS healthy than school lunch. When your child eats school meals, it helps remove stigma from others who may get their only meals from school. Worried that the meal is not healthy? Federal dietary requirements radically changed recently so that school foods are healthier (more whole grains, lower salt and less unhealthy fat). 
We know food is essential. So why do we seem to value desks for students more than fuel from nutrition? How can we make nutrition integral to the school day and available at no cost to families, just like the student's desk?
Participation in federal child nutrition programs is associated with lower levels of food insecurity, better dietary quality, and higher academic performance. More nourishment also means improved health, fewer discipline problems, reduced obesity rates, more graduations, and brighter futures for your child and the one in the next desk. More meals also create jobs and other economic gains in our communities. 
Spread the Word!
Federal child nutrition programs support life-changing opportunities. Please help spread the word: Support the nutrition programs offered at your child's school and in your community. Since the dollars already have been earmarked by federal legislation to pay for nutrition programs every day, for every child who needs them – shame on us adults if we don't do all we can to use our North Carolina federal funds to feed our hungry children! Let's give them access to nutrition every day.
Tamara Cox Baker, Communications/Project Director 
No Kid Hungry North Carolina, a Partnership with Share Our Strength and UNC Center for Health Promotion and Disease Prevention