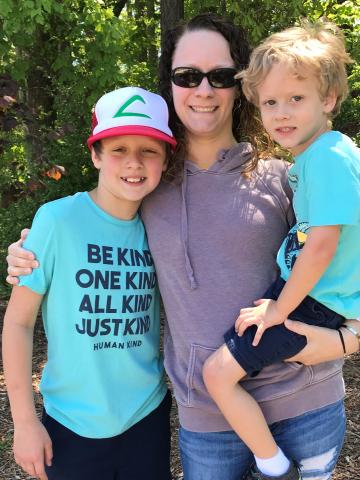 There is no shame in getting free or reduced-price school lunch!
More than one million North Carolina students rely on free or reduced-price meals during the school day to fill their bellies. Liz Beck Costello's children are two of those students; her experience receiving food assistance has compelled her to speak out and become a champion for reducing the stigma around free and reduced-price school meals. She shares her story in the latest episode of the #VoicesofHungerNC podcast. This podcast, from MomsRising and the North Carolina Alliance for Health, in partnership with MAZON: A Jewish Response to Hunger, opens the cupboard on hunger, raising awareness about the extent of food insecurity in our state. 
Liz is driven by the desire to help other families feel less alone in their struggles. Fighting hunger among school-aged children is important to her because she knows firsthand how difficult it is to learn when you're hungry. Liz became an activist because of her boys. She wants to be a voice not just for her children, but for all children. Her two sons receive reduced-price lunch at school; she has made it her mission to reduce both the stigma and the barriers that prevent families from applying for this food assistance. She also dispels the myth that school meals are not tasty or nutritious.  Listen to her story here, and read her tips about applying for free or reduced-price lunch. 
Liz says:
The biggest thing that I've noticed in my sons' school, in rural Johnston County, NC, is that we're only at about 12% usage of free or reduced-lunch. There are many families in our school that would probably benefit from free or reduced-lunch that just don't apply for it. They either don't realize that they would actually qualify, or they don't apply because of pride. 
For me, getting reduced-price lunch makes life a little bit easier for my family. I can now worry a little bit less about what they're eating or how I'm going to afford groceries that week. There is no shame in asking for a little bit of extra help If that little bit of help with free and reduced-price lunch allows you to be able to afford a little bit better shoes for your kid. There's no shame in doing that. It's the difference between merely surviving as a family or thriving. 
Also, the more that people use the free or reduced-price lunch program, the more buying power the school system has to improve the quality of food that they can get. It gives poor and rural communities significant buying power to purchase better food for our kids. No child should ever feel shame over lunch. 
Here are some tips for those of you who are wondering whether or not you qualify for free or reduced-price lunch: According to the frequently asked questions on lunchapplication.com (where everyone applies online for free and reduced-price lunch), you have to include any regular income. That means regular military income, salary, wages, child support, etc. You are not required to include anything that is considered irregular income, such as overtime pay that is not consistent. Basically, any income that you know you will get every month consistently, you have to include. But the example given on their website is that if you normally make $1,000 a month and one month you make $900, then you list your income as $1,000. But if you normally make $500 a month and this month you happen to make $750, you would list your income as $500. Obviously, those are very small examples but that's what it says on the website. So you only have to report the consistent income. 
 The frequently asked questions section of the lunch application website is quite a read but it's very beneficial to anyone who is applying because they can really figure out what income they actually have to include. And that can help you get qualified for the program.
 Please listen to this podcast to hear more from Liz and from a child nutrition expert about free and reduced-price lunch. And  check out our other episodes of the #VoicesofHungerNC podcast. Moving beyond awareness, this podcast offers listeners the tools to become informed anti-hunger advocates. We share multiple levels of personal and policy engagement that fit within peoples' busy schedules-- from signing a petition to joining our network of advocates with lived experience of food insecurity.  So tune in, share your feedback with us, and join our anti-hunger campaign!