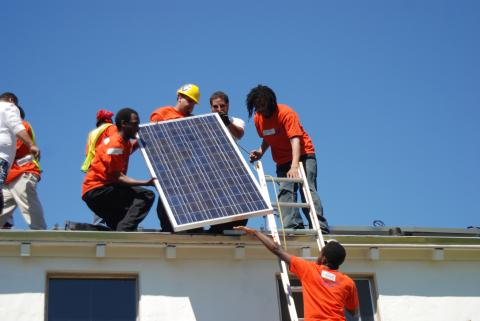 Working in the Regenerative Economy
"If we want stronger communities and more fulfilling, connected lives, we're going to have to build them – together." – Sara Horowitz, Freelancers Union
Federal officials say the "Great Recession" ended in June 2009, 18 months after it started. But for many Americans, the recession's ripple effects still linger: job insecurity and the housing bubble have rattled our faith in the leaders and institutions we came to rely on.
Despite the economic devastation it caused, the recession has given us a great opportunity too: the chance to redefine work culture and the "good life."
In some American cities where economic hardship has lasted decades longer than the recent recession, the seeds of this new economy are sprouting.
Evergreen Cooperatives in Cleveland, Ohio is a collection of worker-owned businesses that do three great things: they provide workers with good wages and a voice in the future of the business; they inject money into the local economy; and they provide sustainable products and services. Win-win-win.
 "I am an owner versus just a worker," said Loretta Bey of Ohio Cooperative Solar, one of Evergreen's worker-owned business that's installing and maintaining solar panels for institutional customers around Cleveland. "I help make decisions in the company."
In addition to its energy services, Evergreen Cooperatives also operates a 3.24-acre hydroponic greenhouse and a laundry. Rather than rely on a national supplier for its food, local institutions like Case Western Reserve University are putting money back into their community by purchasing from Evergreen.
"We feed an awful lot of people on campus every day and being able to use products grown locally has the great environmental benefit of reducing our carbon footprint," said Barbara Snyder, President of Case Western Reserve University. "We [also] think it's good for the community to have that business right here in town."
In the US, CEOs earn 331 times more than average workers. AFL-CIO President Richard Trumka doesn't mince words: companies "are cannibalizing their own consumer base." A shrinking portion of the population controls most of the money and power in our economy. Cooperatives are turning the tide by putting decision-making power in the hands of workers and consumers who have a bigger stake in the community's wellbeing.
Outfits like Evergreen are part of a new, "regenerative economy" or "sharing economy," according to Janelle Orsi, attorney and Executive Director of the Sustainable Economies Law Center (SELC). Co-ops are a way for us to become "protagonists in our own economy," she says.
Janelle is working to advance the sharing economy by removing the many legal barriers that prevent people from establishing businesses and nonprofits that don't fit the conventional mold, like seed libraries, renewable energy cooperatives, or home-based businesses. She's also helping train a new generation of lawyers that will dedicate their careers to strengthening the commons.
In 2012, SELC drafted and oversaw passage of the California Homemade Food Act, which has already triggered the creation of 2,000 food micro-enterprises. They also introduced four California bills to support housing cooperatives, urban farms, worker cooperatives, and local currencies.
SELC walks the talk in its own organization too: every staff member, regardless of role, earns the same living wage, collaborates with coworkers to make decisions for the organization, and enjoys a 30-hour work week.
In 2014, Janelle was elected as an Ashoka Fellow, supported by Rachel's Network, enabling her to scale up her programs. Janelle is operating at the vanguard of this new economy and we couldn't be happier to support her work.
Do you know a woman like Janelle who is tackling our big environmental challenges? Please nominate her for the Rachel's Network & Ashoka Fellowship!