Women Who Code – Why Including Motherhood in STEM Discussions Matters
With millions of students taking part in "Hour of Code," a campaign supported by technology companies as part of National Computer Science Week, there is a lot of internet chatter about the importance of high-tech skills in an innovation economy.
By late Tuesday, more than 60 percent of the students who had taken one of the intro coding tutorials were girls. 
This came as a surprise to the organizers of the campaign – particularly since there has been a lot of talk recently about the importance of encouraging girls to learn to code – and about the current dearth of women in computer science.
Although women outnumber men in college by 4:3 and attain advanced degrees at an equal or higher rate, the number of women who major in computer science has not been rising – in fact, it has declined by half over the last twenty-five years.
And it's not because women are not proficient in math or science.  According to 2012 ACT college-entrance scores: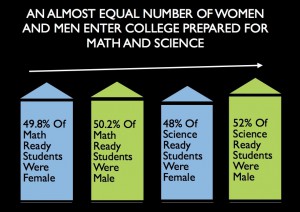 So, not surprisingly, articles about discrimination and discouragement in the fields of computer science, and in math and science in general, have been pretty common over the last few months.
It's obvious that the lack of access to a lucrative high-tech career impacts women. However, there has been very little recognition of how the scarcity of women in computer science impacts the economy.
If conventional wisdom is to be believed, the US desperately needs more qualified workers in STEM (Science, Technology, Engineering, Math) industries.  And if our educational institutions, technology industry, and governments were to do the math, they would realize that supporting women's educational and professional attainment would increase the pool of computer science workers dramatically.
As the author of Lean On and Lead, an interactive iBook of interviews about parenting and work, I know that our society cannot support working women without supporting working mothers.
In fact, many of the parents I interviewed for my book are mothers in STEM fields.  Not surprisingly, their options for balancing work/family commitments vary depending on their fields and their levels of success.  However, regardless of income, because they are mothers, they have all had to address certain common issues that affect their work lives and the well-being of their children.
For example, the following excerpts from Lean On and Lead depict some of the unique challenges faced by breastfeeding moms working in STEM fields:
"[B]ecause I am the only female engineer in the engineering department, and the only mother of young children, family issues have not been a priority at my workplace… When it came to breastfeeding, I brought a pump to work, but because of the nature of my workplace, it was hard to maintain a nursing schedule.  It was difficult for me to tell my male coworkers and bosses that I needed to take a pump break in the middle of a meeting or even a conversation.  As a result, my milk production decreased quickly, and I only nursed my baby for five months." -- Lala Zhang, Civil Engineer
"[Once I had my baby,] I was also committed to breastfeeding, which meant toting my breast pump all over Silicon Valley and trying to time the drive and interview with my pumping needs. Once I arrived at the interview, if there wasn't enough time to find a bathroom, then pump, get back to my truck to store the milk, and then back inside in time for the interview to start, I would find myself pumping in the backseat of the truck or in the handicapped stall of a major tech company."-- Dana Ledyard, Managing Director of Girls Who Code
"I never considered reducing work after my kids were born, as I loved my job and also was the main earner at home. I did focus on being able to nurse both girls until they were at least six months old, and thankfully, I was able to take four months leave with both girls.  I then planned my days very carefully so that when I returned to work I could continue nursing, though that also involved pumping.   I also took my husband and older daughter on business travel with me after I returned to work."-- Sharon Wienbar, Managing Director and Partner, Scale Venture Partners
Whether in STEM or any other career, women need to be able to lean on workplace policies that support their full participation and career advancement.  Considering the importance of a strong STEM workforce to the US economy, and the fact that if utilized, women would make up half of the US's educated workforce, enacting policies that support women and mothers' active and full-fledged participation in the economy should be a national priority. 
"...When it comes to participating in the workforce and making a contribution, women in particular need to get a running start." – Sharon Wienbar
(Infographic from LeanOn and Lead, Mothering & Work in the 21st Century Economy)