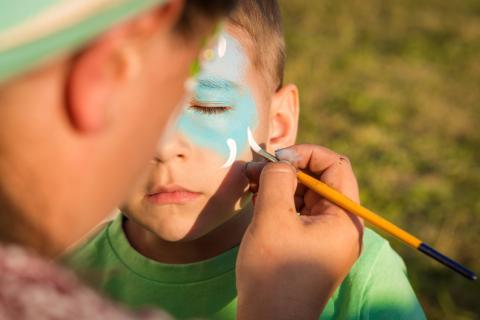 What's in the Halloween makeup?
An Ice Wizard. That's what my son wants to be for Halloween this year. And I'm glad. Homemade costumes are the most fun, and a quick internet search helped me see exactly which video game character he had in mind.
Brown shirt, blue pants, blue fabric as a belt–it all seemed easy enough until we got to the face. And that's where I got stuck. The costume calls for blue eyebrows, mustache, and hair. That should be easy, but our quick trip to the Halloween aisle left me with more questions than answers. There were plenty of tubes and kits of face paint in lots of shades of blue. But they all seemed to be missing what I was looking for most–some indication that the makeup they contained wasn't toxic.
A scary new report released last week by the Breast Cancer Fund's Campaign for Safe Cosmetics documented the widespread presence of toxic chemicals in kids' cosmetics and face paints. 
According to the report, many brands of children's face paint contain dangerous toxins. One in every five face paints tested by the researchers contained lead, a neurotoxin. Unfortunately, it's not just Halloween products that families have to be concerned about. Potentially harmful toxins were found in other cosmetic products marketed to children, including toluene (which can effect reproductive health) and styrene (which can cause cancer) in flavored lip balms.
So this isn't just bad news for my family at Halloween. It's also bad news for my daughter, who loves to save up her money for lip balm in every flavor imaginable.
Every day, Americans use an average of 10 personal care products, exposing themselves to more than 126 unique chemicals. That doesn't include the hazardous chemicals we are exposed to daily in other consumer products, and our air, water, and food. It is little surprise then, that these cosmetic chemicals are found in our bodies, our breast milk, and are even present in the umbilical cord blood of babies at birth.
We are all affected by our exposure to toxic chemicals, but developing fetuses, children, and teenagers are at heightened risk because they are particularly vulnerable to the effects of chemicals. Exposure during certain developmental periods can have lifelong health consequences, including increased cancer risk.
As a parent, I find this tremendously frustrating. As close family members battle cancer, the last thing I want to have to worry about is whether the lip gloss my daughter wears or the makeup my son wants for his costume is tainted with toxins. Cosmetics and personal care products should not put children and families in danger.
We need safer products and stricter federal regulation of the unsafe chemicals in cosmetics that includes a strong safety standard that protects kids and other vulnerable populations.
Dressing up for Halloween should always be a treat for our kids and not an experience that leaves parents feeling tricked as consumers.