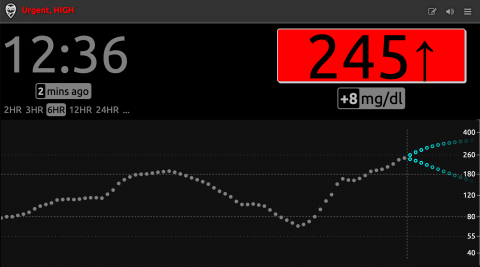 What I've Learned About Type 1 Diabetes Technology
6 months ago, if you'd asked me whether I'd be purchasing my 8 year-old daughter an iPhone and an Apple Watch, I would have given you the stink eye. Now she has both, as well as an insulin pump and a continuous glucose monitor (CGM). Why? Because she was diagnosed last fall with Type 1 Diabetes (T1D). There are a lot of ways technology helps with the management of this disease. I want to share our journey over the last several months with T1D and the associated technology, in hopes it might help newly diagnosed families and others who want to learn about these topics.
NOTE: This post is rather narrowly focused on technology. I could (and should) do a separate post on insulin affordability, which is an enormous and heartbreaking problem. Many individuals with T1D cannot afford the insulin they depend on, and that is not acceptable. I should also do a post on coping with a T1D diagnosis. Tech helps manage T1D, but it is the love and support of compassionate humans that has sustained and continues to sustain my family in this journey. If you or a loved one has T1D, get connected to a supportive community, both on and offline. There is a good list of resources here via beyondtype1.org.
What is Type 1 Diabetes and How Did My Daughter Get Diagnosed?
Type 1 Diabetes is an auto-immune disorder where the body attacks the insulin and glucagon producing cells of the pancreas. Eventually, the pancreas no longer produces a meaningful amount of insulin or glucagon. Without insulin, the body cannot convert glucose to energy. Without glucagon, the body cannot raise blood sugar when it falls too low. People with type 1 diabetes depend on insulin to survive. They need to have fast-acting carbohydrates (like juice) readily available to raise low-blood sugar, and may need a glucagon injection in an emergency. Common symptoms of type 1 diabetes include extreme thirst and frequent urination. When we were at a local carnival one hot afternoon last fall, and my daughter begged me to buy her a second water bottle after drinking a full one, I knew something was wrong. That Monday morning, she went to the clinic, had a blood sugar of 341, and we were told to take her to the ER. We were fortunate that she wasn't critically ill – many people are diagnosed with Type 1 when they are in diabetic ketoacidosis – a condition caused by high blood sugar that results in a build-up of acids in the bloodstream.
How is Technology Changing Things?
For years, the standard treatment for T1D has been regular blood sugar checks (via finger prick) and insulin shots to regulate blood sugar levels. This involves a combo of long-acting (basal) insulin shots that act over 24 hours, and short-acting (bolus) insulin shots (often 5 to 8 a day) to cover carefully counted carbs from meals and snacks and provide corrections for high-blood sugar. New technologies aspire to essentially replace the function of the pancreas entirely – this requires constant monitoring of blood sugar, and technologies that can deliver insulin and/or glucagon appropriately as blood sugar levels demand. The combination of continuous glucose monitor and insulin pump is as close to an artificial pancreas as we can get right now.
What is an Insulin Pump and Why Does My Daughter Have the Pump She Has?
An insulin pump is a durable electronic device that is typically attached to the body via tubing, and delivers insulin according to how it is set up. The infusion site has to be changed every few days. Some insulin pumps are integrated with continuous glucose monitors and are able to automatically suspend insulin when blood sugar goes low, or deliver insulin to automatically correct high blood sugar. The insulin available today isn't as quickly reactive as the insulin produced by the pancreas, so even pumps that react to high and low blood sugar automatically need to be told how many carbs an individual consumes so insulin can be given before meals. We had to choose between three pumps – the Medtronic 670g, Tandem t:slim x2, and OmniPod. A quick primer on these three options:
Medtronic 670g – This pump has an "auto" mode where it reacts to both blood sugar highs and lows. It's the only pump available right now that auto-corrects high blood sugars. To use the "auto" mode, however, you have to also use Medtronic's continuous glucose monitor, called Guardian, which isn't generally as well-liked as the competition, and doesn't allow you to share readings to the cloud … more on this later.
Tandem t:slim X2 – The touchscreen Tandem pump has a feature called Basal IQ that will suspend the regular basal insulin it delivers if it believes the wearer is likely to have a low blood sugar in the near future. To use this feature you need to pair the pump with the DexCom G6 continuous glucose monitor. Tandem pumps, unlike the Medtronic pump, can receive software updates. A feature to auto-correct high blood sugar, called Control-IQ, is expected from Tandem in the second half of 2019. Since insurance companies typically will replace a pump only once every 4 years, Tandem's software updates allow the wearer to take advantage of new features (like Control-IQ) as they are released, instead of waiting for the next hardware replacement cycle. In the fast-changing world of diabetes tech, 4 years is a LONG time to wait - so this is a big advantage for the Tandem pump.
OmniPod – The OmniPod is a lot different because it has no tubing and it sticks to the wearer like a patch. It doesn't currently have any features to change behavior in real-time informed by a continuous glucose monitor, but not having tubing is a huge plus. Also – the OmniPod is more often available under prescription drug coverage versus treated as durable medical equipment. Depending on insurance coverage, this can be a huge plus.
… One More Thing – Another option is to go the DIY route. There is a robust community of DIY hackers (many of them parents) who have put together the components of an artificial pancreas. They have created an open source app, Loop, that uses continuous glucose monitor readings to communicate insulin delivery instructions to a hacked Medtronic pump or an OmniPod. A wearable computer called the RileyLink powers the communication between all these components. The passion and hard work of the open source community has pushed diabetes tech forward, likely speeding up innovation from commercial medical device companies and changing how the FDA regulates diabetes technology  – efforts are now underway to deliver Loop as an FDA-approved mobile app.
What did we decide? It was not an easy decision to make, but we decided to get the Tandem pump for my daughter. We love the low suspend feature (less getting up in the middle of the night), we want to be able to see readings 24/7 whether she is with us or not, and we want to get tech updates even if the insurance company won't cover a new pump.
What is a Continuous Glucose Monitor and Why Does My Daughter Have the CGM She Has?
A CGM provides frequent updates on blood sugar, 24 hours a day. It makes it possible to see where blood sugar is going over time, and what trends exist, in a way that is not possible with finger stick measurements. The DexCom G6 is the first glucose monitoring technology that is FDA approved and does not require any finger sticks. It is applied as an adhesive patch using a simple to use applicator, which puts a very thin thread-like strand just under the skin that measures blood sugar from interstitial fluids. The sensors last 10 days each, and an associated transmitter that attaches to the sensor and broadcasts readings via Bluetooth lasts for about 3 months. Our daughter doesn't seem to mind putting on DexCom sensors and reports that it hurts less than shots or changing the pump infusion set. The G6 is the state-of-the-art, and it was really the only option recommended to us. There are alternatives like the Medtronic Guardian CGM and the Freestyle Libre, but they weren't recommended to us for our daughter.
Why Does My Daughter Have an iPhone?
One of the reasons dads and moms like us love the DexCom G6 vs other options is because DexCom provides a mobile app that can display blood sugar readings and share those readings with others in real-time. We use DexCom's Follow app, and another fantastic app called SugarMate to monitor my daughter's readings 24/7 - these apps let us check-in on her blood sugar and set alarms to notify us of highs and lows. I've also set up a Nightscout website so that her readings are "in the cloud." The school nurse uses this website to check on my daughter's blood sugar via a web browser. In order to make sure her readings are always available in real-time, we purchased my daughter an iPhone SE with a prepaid data plan (I use Tello's pay-as-you-go, which has no monthly fee). You can use a phone, an iPod touch, or other connected device that supports the DexCom G6 app without a data plan, but that means you'll only get readings when connected to a WiFi network. Having readings at recess, on the bus, or while she is at birthday parties is definitely worth the small prepaid data charges. Her phone is set up to connect to WiFi when possible, and to only use cellular data for the DexCom G6 app – this keeps costs super low – so far just $2 or $3 a month. Insurance companies should cover mobile devices and LTE data for kids, but they don't.
Why Does My Daughter Have an Apple Watch?
One of the huge challenges with Type 1 is figuring out how your kid can have as normal an experience as possible in school, while monitoring blood sugar and getting the insulin she needs. Pulling out a phone or insulin pump regularly to see your blood sugar number is disruptive and my daughter doesn't want diabetes to be center stage in the classroom. With the watch, my daughter can just look at her wrist to see her blood sugar at any time. Her phone stays in a pouch all day and doesn't need to come out. We have her phone set to "Do Not Disturb" and the Apple Watch on silent mode so instead of loud alerts she'll just get the haptic taps when going high or low – causing minimal disruption to the class so she can stay focused on learning. While her other devices (iPhone and pump) have urgent low alarms set up just in case, using the haptic feedback on the watch keeps the beeping and disruptions to a minimum. Insurance companies should ALSO cover this tech for kids, but they don't.
Insurance Companies Should Cover ALL This Tech, But They Don't
Sadly, getting set up with good technology to manage diabetes often isn't covered by insurance. Having a pump, CGM, phone with data plan, and a watch are key components of making sure the adults in my daughter's life can manage her blood sugar, while she focuses on learning, playing, and being a kid with minimal distraction.
Insurance companies do often cover pumps and CGMs, but not phones and watches. Even when covered, CGMs and pumps may be cost-prohibitive. Despite studies showing huge benefits, such as increased quality of life and better glucose control, CGMs are often covered in such a way that they are much more expensive than test strips. Under our current insurance policy, my daughter will hit her out-of-pocket maximum every single year from her CGM alone. Insurance plans vary widely on how they cover insulin, diabetes supplies, pumps and CGMs, and what prescriptions and equipment (if any) are considered preventative. Major insurers, like United Healthcare, have policies in place that prefer or require a specific pump vendor and limit the ability of patients (or their parents) to pick the diabetes tech options that work best for them. If my family had different insurance, choosing the Tandem pump may not have been a covered option.
Navigating the insurance landscape in order to get the necessary pre-authorizations for technology like pumps and CGMs is entirely too difficult, and companies may not even cover the technology and supplies than a patient and endocrinologist agree are the best fit. Insulin and diabetes tech are not nearly accessible or affordable enough, and insurance companies must do better.
What's Next?
As I post this, the diabetes tech landscape has probably already changed! The pace of change is fast, and it's not easy to stay caught up. My family is excited about expected updates to the Tandem pump that will add features to automatically correct high blood sugars, and help us all get a little bit more sleep. I'm also closely watching what is happening with Tidepool and Loop – as a techie, open source fan, and dad, I'm very excited about the innovation being driven by parents of kids with T1D.
Thanks for reading this far! This post will, like diabetes technology itself, likely fall quickly out-of-date, but if you have thoughts or questions, please share in the comments or get in touch with me directly at nate@momsrising.org.