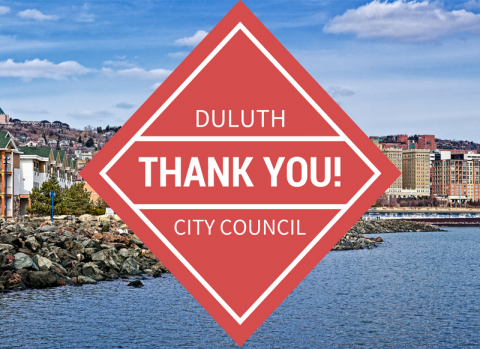 We're Sending a GIANT Thank-You Card to Duluth's City Council!
I have great news for Duluthians! This summer, the Duluth City Council formed a task force to study the creation of an earned sick time ordinance. This is an important step in getting earned sick time passed in Duluth!
Adding your name to the card will help show the Duluth City Council how important passing earned sick time is to their constituents! 
The earned sick time task force will meet over the next year in order to study and formulate recommendations for an ordinance. For the
54% of Duluth workers
who can't earn a single paid sick day to recover or care for a sick kiddo when illness strikes, this task force and earned sick time ordinance could make a world of difference in our families' economic security.
*** Duluth's elected officials need to know that Duluthians want and need earned sick time! ***
There's a reason that Minneapolis already passed earned sick time! It's a win-win-win for working families, businesses, and the local economy. When parents don't have to lose a paycheck when their kids get sick at daycare or school, it means they have money in their pockets to spend in our consumer-driven economy. Implementing earned sick time is also known to
boost businesses
by reducing turnover costs, boosting workplace morale and productivity, and helping to stop the spread of illness among workers.
Together, we are a powerful force for Duluth's women and families.