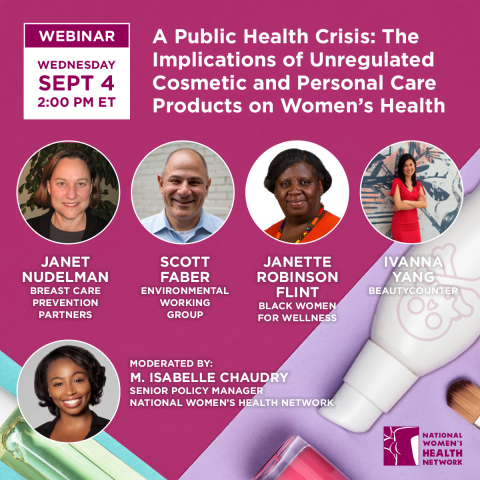 Webinar on Personal Care Products & Reproductive Health
The National Women's Health Network has been working to raise awareness and advocate for strong federal regulation of cosmetic and personal care products. Most of us use these products—from shampoo and sunscreen to makeup and hair dyes—on a daily basis, some of which contain ingredients and contaminants that are harmful to our bodies and reproductive health.  
The industry is largely self-regulated! Big businesses have made big money selling products to women that are known to be harmful. Under the current regulatory framework, there is very little the Food & Drug Administration can do about it. We need Congress to act. 
We at NWHN will be hosting a webinar on Wednesday, September 4, 2019 at 2pm EST. This webinar titled: A Public Health Crisis: The Implications of Unregulated Cosmetic and Personal Care Products on Women's Health will do the following:
 Provide information about toxic ingredients in cosmetic and personal care products

 Highlight the connections between the dangers of toxic ingredients and women's health

 Discuss the people who are most impacted by this issue

 Highlight the advocacy work organizations are involved in to combat this issue

 Discuss what Congress needs to do to remedy the issue
Panelists will include:
Janet Nudelman, Director of Program & Public Policy, Breast Care Prevention Partners
Sott Faber, Senior VP, Environmental Working Group
Janette Robinson Flint, Executive Director, Black Women for Wellness
Ivanna Yang, Director of Advocacy, Beautycounter
Moderated by: M. Isabelle Chaudry, Senior Policy Manager, National Women's Health Network
Participants will include women's rights and health groups, women's reproductive justice groups, public policy advocates, safe cosmetic groups, environmental groups, and the general public. You can register HERE!