Take Action!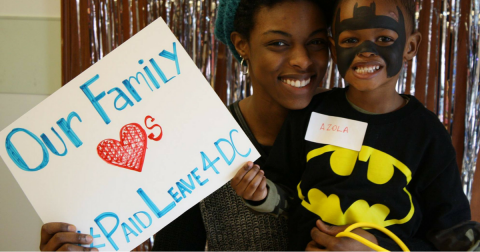 We need to put FAMILY back into DC Paid Family Leave!
Houston, we have a problem. On what planet do our parents, grandparents, siblings, and children over 18 not count as family members?! Well, planet Earth... potentially. Specifically, in Washington, DC!
Yep. Under the new version of the DC Universal Paid Leave Act, we wouldn't be able to use paid family leave to care for our parents, grandparents, siblings, or adult children if they had a serious illness like cancer. Unacceptable!
Tell Mayor Bowser and the DC Council: Strengthen the DC Universal Paid Leave Act! Family is family.
There is so much MOMentum behind the DC paid family leave bill. And it's up to us to make sure that the strongest possible version passes! We already know that a majority of the DC council supports paid leave, what we have to worry about now are the details, like who can take paid family leave, for how long, and in what circumstances.
The bill's definition of "family" is not the only thing we're worried about right now. Several other cuts were made to the bill that seriously weaken it, like the exclusion of end-of-life care and mental health issues from the list of circumstances and medical conditions that merit paid leave.
To put it simply – this is dangerous. Postpartum depression is the most common childbirth complication out there. One in seven women experience depression in the year after they give birth. As a result, suicide accounts for about 20 percent of postpartum deaths and is the second most common cause of mortality in postpartum women.
This, taken with the growing number of Americans wedged in the sandwich generation with young children and elderly parents, means that thousands of hardworking DC residents will be called away from work to provide end-of-life care for a parent in the coming years. Nobody should have to worry about paying their bills while their parent takes their last breath.
Send Mayor Bowser and The DC Council a message: End-of-life care and mental health issues, like postpartum depression, MUST be included in the bill as circumstances that require paid leave!
We're not going to stop raising our voices about DC paid family leave until the bill is the type of strong legislation that DC families need. It's critical that at passage, the bill covers everyone who lives or works in the District, contains an inclusive definition of family, covers end of life care and mental illness, is meaningful for low-income families with its rate of payment, and provides at least 12 weeks of paid family & medical leave. Together, we can make sure that the strongest possible version of the DC Universal Paid Leave Act passes with flying colors so it is a model for the nation.
Click here to make sure the DC Universal Paid Leave Act creates the paid leave program that DC's workers and residents need and deserve!
Paid family leave is a win-win-win for DC's working families, businesses, and local economy. Let's make it happen!
* * * Do you have experience needing to take family and medical leave – either paid or more commonly, unpaid leave? Tell us about it here! 
https://www.momsrising.org/member_stories/topic/tell-us-about-your-exper...