We need more than "breast cancer awareness"
No one is more interested in breast cancer than I.
My mother was first diagnosed with breast cancer when I was 10 years old and died of a recurrence seven years later.  Now, more than twenty years after my mother's death, my sister and I are both nearing the age of my mother's first diagnosis and the thought that one or both of us will some day be diagnosed is a nagging, ever-present fear.
So, I should be plastered in hot pink every October right?  Wrong.  I have two objections to Breast Cancer Awareness Month.
1) It sets our collective sights dangerously low.
Awareness that breast cancer exists?  I think we can cross that one off our list.
With 1 in 8 women now getting diagnosed with breast cancer in their lifetimes, the disease has done this PR work for us in the most gruesome of ways.
It's time to set our sights higher.  Yet, I have not seen  major breastfeeding organizations, media, or pink-shoe-wearing NFL players, build public awareness about how we can take steps as a nation to prevent breast cancer in the first place, including:
Promoting breastfeeding, which significantly reduces a woman's  breast cancer risk
Lowering our exposure to toxic chemicals in our food, products (such as cosmetics), and toys/consumer goods
2) Pink products cheapen this fight.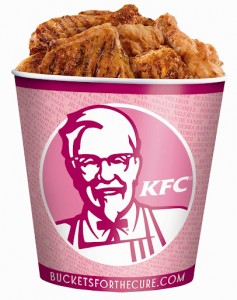 The explosion of pink as a primary tactic cheapens this fight by commercializing it through the sale of unrelated and potentially cancer causing products.  Seriously, it would funny if it weren't true.
Breast Cancer Action brilliantly exposed the major breast cancer organizations' strategy of "pinkwashing" as part of their "Think Before You Pink" campaign.  According to Breast Cancer Action, a "pinkwasher" is a company or organization that claims to care about breast cancer by promoting a pink ribbon product, but at the same time produces, manufactures and/or sells products that are linked to the disease. For example, many women's cosmetics packaged in pink for Breast Cancer Awareness month contain carcinogens and other harmful additives linked to cancer.  Major cosmetic companies such as Avon, Revlon and Estee Lauder have ignored pleas by the Campaign for Safe Cosmetics and others to remove these harmful chemicals from their products.
As the Facebook group "Pinkwashing Hall of Fame" asks so succinctly in one of its posts: "What good is the pink without meaningful information about how women can lower their risk of breast cancer?"
What can you do?
Here's what you can do this month and beyond to fight the pat, safe packaging of Breast Cancer Awareness Month.
* Spread prevention information.  For example, Tell your friends in person and on social media that breastfeeding is about a mother's health as much as it is for their baby's health.   Here's a sample post - on my Facebook page - feel free to use it!
Did you know that a woman can reduce her risk of breast cancer by 4.3% for every 12 months she breastfeeds?  Share this information with your community of friends.  Prevention is the new pink.
* Support organizations who are working hard to fight pinkwashing, and promote breast cancer prevention! Visit Breast Cancer Action, the Campaign for Safe Cosmetics, and Best for Babes to learn more, and share your pinkwashing stories on the Pinkwashing Hall of Shame.