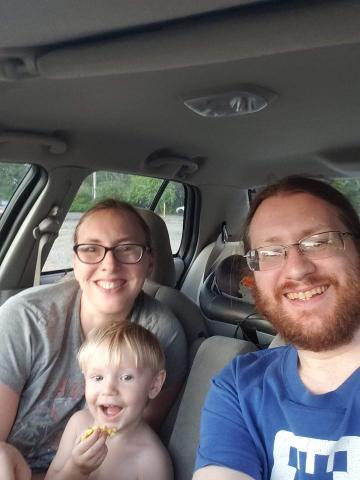 We Are MomsRising, Cori from Washington
In today's installment of We Are MomsRising, we talked to Cori in Washington about how the Earned Income Tax Credit (EITC) and Child Tax Credit (CTC) helps her family!  Read her story below. Cori was also recently wrote an op-ed in the Olympia's Works in Progress. Read it here. To learn more about the We Are MomsRising campaign, check out this blog. 
We are a single-income family; my husband works and I'm a stay at home mom, because we can't afford childcare. It would be like $1000/month to put my son in childcare. Plus, I have student loans, so if we increased our income by $50, we would exit income based repayment. So for it to be worth it for me to work, I would need to making quite a bit of money. 
We started receiving the CTC when our son was born last year. We've always received the EITC because we're poor. We use these credits for extras, things we couldn't afford otherwise. Things like swim lessons. These are things we couldn't possibly have if we didn't get a large sum of money back in taxes, and they're really important to us. 
When we got our CTC last year, we knew it needed to go directly toward our son. He has two cousins who are really close to his age, and we wanted to create memories and give them a chance to bond with each other. That's how we came up with the idea of a family trip to the beach for a weekend. It meant our kids could go to the beach for a weekend, just like we did growing up, and it was dedicated time for our families to bond and love on each other. I'm happy to keep that tradition alive. 
One expense we really struggle with right now is housing. We currently rent, and we only rent a portion of the house that we live in. We can't afford the going rent for an apartment to be on our own. That's created its own family dynamic struggles, because there's two families in the house, with different philosophies on how we should interact and raise our kids.  If the CTC were raised to 3000/year for children under 6, that could be the difference between renting and buying a house for us. 
There are a lot of things that the working poor struggle with. We struggle with trying to change our circumstances, to stop living paycheck to paycheck. We struggle with worrying about going to the food bank again this week to make sure there's food on the table. An increase to these credits would relieve so many families' stresses. For us, it would be the difference between staying stagnant/getting by and moving forward financially. For other families, it would be the difference between having to worry about food every week vs feeling secure in that. It would help everyone know that there's a cushion when hard times hit, the car breaks, or God forbid you're laid off or something.