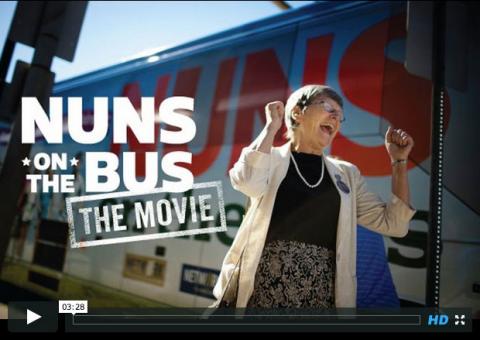 War on Nuns? Hobby Lobby, SCOTUS, and Nuns on the Bus
Hobby Lobby's lawyer made a statement that the Obama administration 
has been waging a "war on nuns" and people of faith. 
Since I've been following Sister Simone Campbell and the Nuns on the Bus for the past two years in production on 
a documentary film
, I wanted to hear her thoughts. 
Sister Simone and her organization, NETWORK, helped Congress pass the Affordable Care Act and was punished by the Catholic Church as a result. 
In 2012, while the Catholic 
Bishops were claiming "religious freedom," the nuns told Congress that 
health care for all is a pro-life stance. Minority Leader Nancy Pelosi credits 
Sister Simone and the nuns with changing the minds of a critical number of 
pro-life Democrats. 
When I caught Sister Simone today in the middle of hectic DC lobbying, she
 was disappointed and frustrated and 
noted that some are saying the Hobby Lobby decision will actually lead to more abortions. But she was even more focused on her current battle: comprehensive immigration reform.
"It's so depressing that the House of Representatives won't deal with the 

issue and blames the President when it's their willful refusal to govern that 

is the problem."
If anyone is waging a war on nuns, they seem to be fighting back from both 
sides of the aisle. 
To learn more about how you can 
help finish the film
 and Sister Simone's continued advocacy of government programs that benefit women and families, please visit: 
nunsonthebusmovie.com
Melissa Regan is the Sundance-award-winning filmmaker of Nuns On The Bus – The Movie!, a funny and poignant documentary film in-progress about courage, values, democracy...and nuns.