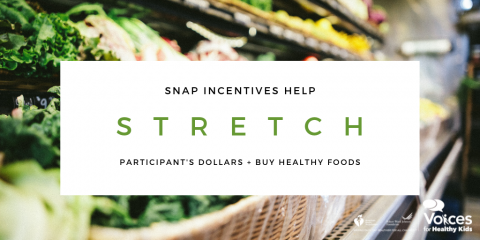 Voices for Healthy Kids SNAP Incentives Series: Michigan Fair Food Network
From Voices For Healthy Kids, an intiative of the American Heart Association with support from the Robert Wood Johnson Foundation, working to make each day healthier for all children.
The Double Up Food Bucks program, which matches SNAP dollars spent on fruits and vegetables, is a national model for healthy food incentives. It operates in 20 states and is expanding to more (see the related Hawaii Appleseed Center story), but it began in Michigan.
According to the Fair Food Network's website: "Nearly a decade ago, Fair Food Network collaborated with five Detroit farmers markets to field test the idea of healthy food incentives through a pilot program called Double Up Food Bucks. The program quickly grew statewide to more than 250 farmers markets and grocery stores powered by federal, state and philanthropic support."
Today, Fair Food Network employs staff to support Double Up Food Bucks in Michigan and across the nation. Policy Manager Annie Shapiro, who leads Michigan-focused policy advocacy, explained that the Network offers varying levels of support to Double Up programs across the country. In some states, like Hawaii, it provides technical assistance, and in others, it administers the program.
"Michigan is our flagship," she said. "We are always working to strengthen the program here and that means advocating for sustainable state funding. The state has been a strong partner in this work. We received one-time funding from the state in 2017, but it has to be renewed annually, which requires ongoing advocacy. Our ultimate goal is to make the program a line item in the state budget with recurring funding every year."
With that ultimate goal always in mind, Shapiro said that the 2019 policy campaign, supported by a grant from Voices for Healthy Kids, focused at first on getting Double Up included in the new governor's draft state budget for 2020. That goal was achieved to the tune of $4 million. According to news reports, the governor supports expanding the Double Up Bucks program to all 83 counties in the state, from the current 65. The draft Michigan House of Representatives and Senate budget bills included funding for the program —though at lower levels. 
"We worked pretty hard with our House and Senate champions to be included in those draft budgets," said Shapiro. "We're thrilled that our work paid off and that when the Governor signed the final state budget earlier this month, she included $1 million in recurring state funding for the program." 
This $1 million in funding is in addition to a $2 million allocation included in a supplemental state budget passed earlier this year to cover the rest of 2019. Bringing the total state allocation for Double Up Food Bucks to $3 million. 
She said the Network and its advocacy partners focused on meeting with the appropriate House and Senate members in their districts and brought local constituents to their offices to advocate for the program—particularly with newly elected members who aren't as familiar with it.
"We have found that taking legislators on site visits to farmers' markets in their home districts is particularly powerful," said Shapiro.
The campaign also recruited constituents to undertake letter-writing campaigns and takes advocates to meet with legislators in the state capitol. Shapiro mentioned the importance of developing and broadly disseminating informational materials on the program as well as working closely with agency staff—the state's Department of Health and Human Services administers SNAP and the Department of Agriculture and Rural Development provides funding for Double Up Food Bucks—to ensure they are well-versed in the program because "they field a lot of questions from legislators."
Help Inspire Change in Your Community
To learn more about this issue and how you can help mobilize a similar campaign, visit our SNAP Incentives Toolkit. Within our toolkit, you will find helpful information to build out your own advocacy efforts aimed at developing policies that support increasing access to healthier foods in your community!