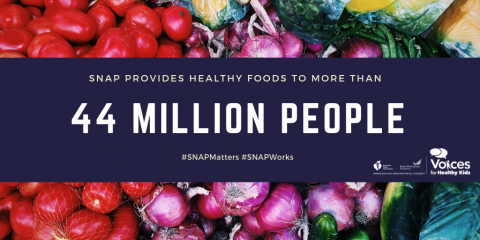 Voices for Healthy Kids SNAP Incentives Series: Massachusetts Food System Collaborative
From Voices For Healthy Kids, an intiative of the American Heart Association with support from the Robert Wood Johnson Foundation, working to make each day healthier for all children.
Massachusetts has long been at the forefront of healthy food incentive programs for low-income residents. In 1986, a state program helped participants in the Special Supplemental Nutrition Program for Women, Infants, and Children (WIC) buy farmers' market produce. That effort led to the federal WIC Farmers' Market Nutrition Program, which was funded at $18.5 million in 2019. And the successful Healthy Incentives Pilot (now called the Healthy Incentives Program – HIP), which demonstrated the benefits of SNAP nutritious food incentives and led to the creation of the FINI grant program (now GUSNIP), was piloted in Hampden County, Massachusetts in 2011-2012.
Massachusetts' HIP program doubles the dollar value of SNAP participants' purchases at participating farm stands, farmers markets, mobile markets and community-supported agriculture (CSA) programs across the state (up to a monthly limit based on household size). After funding for the initial pilot, a $3.4 million FINI grant plus the required matching funds from various sources initially funded the program. This initial program funding was expected to support the program for three years, but people embraced the program to such an overwhelming extent that it spent $4 million in its first year alone. HIP has since received additional funding from a state budget supplement.
"This year, with support from our grant (from Voices for Healthy Kids), we focused our 'Campaign for HIP Funding' on an $8.5 million ask from the state legislature for fiscal year 2020," said Winton Pitcoff, Director of the Massachusetts Food System Collaborative. "That's what we think is needed to operate year-round without interruption, assuming moderate growth. We're also working with HIP's legislative champions to enact the program into law. The program enjoys tremendous support among state lawmakers thanks to the hard work of all our coalition members."
To reinforce existing support and garner new support for the budgetary ask and the proposed legislation, the Collaborative developed messaging and outreach materials that give voice to those most impacted by the program; recruited advocacy organizations to its coalition; trained advocates; and educated legislators, the public, the media and other stakeholders.
"We had a very successful 'lobby day' on Beacon Hill this year," said Pitcoff, referring to the Boston location of the Massachusetts State House. The event featured a briefing on HIP for legislators and their staff members as well as coaching for advocates to promote HIP effectively with legislators. More than 70 HIP advocates from the Collaborative's partner organizations participated and the Collaborative debuted a new video to support the campaign, HIP in Massachusetts: Nourishing Families, Sustaining Farms.
Thanks to the advocacy campaign, the final 2020 state budget included $6.5 million for HIP. Not as much as the campaign had asked for, but still a significant from the previous year. Even still the program continues to grow—more than $950,000 in incentives were earned in August alone—and the campaign is gearing up to request additional funding in a mid-year supplemental budget in order to avoid a mid-year suspension.
When asked about future HIP funding, Pitcoff said that, "as soon as we know for sure what funding we have for the upcoming budget, we start thinking about the next one. We operate in a continuous loop, constantly assessing and reassessing where we are and where we want to be."
Also still pending before state lawmakers is legislation, Senate Bill 48 and House Bill 145, that will enact HIP into law permanently. The bills have been referred to but not yet taken up by the Joint Committee on Children, Families and Persons with Disabilities.
And when asked what contributed to the success of this funding campaign, Pitcoff said: "I think the broader you can make the issue of hunger, the more successful your efforts will be. It's critical that people have enough to eat and can access nutritious food, but if you connect that issue to economic development, to supporting farmers, to improving public health then it becomes a conversation that involves everyone and everyone becomes invested in helping it succeed."
Help Inspire Change in Your Community
To learn more about this issue and how you can help mobilize a similar campaign, visit our SNAP Incentives Toolkit. Within our toolkit, you will find helpful information to build out your own advocacy efforts aimed at developing policies that support increasing access to healthier foods in your community!