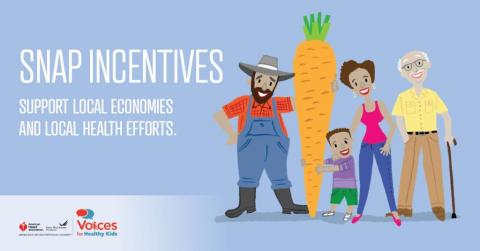 Voices for Healthy Kids SNAP Incentives Series: Making Nutritious Produce Available in Hawaii
From Voices For Healthy Kids, an intiative of the American Heart Association with support from the Robert Wood Johnson Foundation, working to make each day healthier for all children.
Every day, in communities across America, people with low wages face difficult tradeoffs when trying to cover the necessary expenses of daily life. These tradeoffs include balancing the costs of housing, health care, child care and transportation as well as the ongoing struggle to afford healthy food. In some neighborhoods, there may be very few or no places to buy healthy food, adding time and transit expenses to the price of groceries.
That's why more than 45 states offer incentive programs to help Supplemental Nutrition Assistance Program (SNAP) participants fill their pantries with more fruits and vegetables. Formerly known as food stamps, SNAP helps millions of people across America, including one in 10 families, buy groceries they otherwise could not afford. SNAP incentive programs help them stretch their food budgets so they can purchase fruits and vegetables more often. These programs are especially important for two reasons. First, two-thirds of SNAP participants are considered the most vulnerable among us: children, elderly adults and people with disabilities. Second, people who use SNAP are at a higher risk of developing chronic diseases like heart disease, high blood pressure and type 2 diabetes. Stocking their kitchens with healthy produce means these shoppers are less likely to buy junk food high in fat, sodium and sugar.
While the specific details vary across programs, incentives generally award credits or vouchers when fruits and vegetables are paid for using SNAP electronic benefit transfer (EBT) cards during check out at participating grocery stores, farmers' markets or similar establishments. The credits or vouchers can then be used to purchase additional fruits and vegetables.
According to the U.S. Department of Agriculture (USDA), "incentivizing purchases of fruits and vegetables increases their affordability and consumption." This was one of the major findings of the Health Incentives Pilot (HIP) program, which led Congress, in 2014, to create the  Gus Schumacher Nutrition Incentive Program (GusNIP, formerly known as the Food Insecurity Nutrition Incentives, or FINI, program). GusNIP awards grants to states to create point-of-purchase financial incentives to encourage SNAP participants to buy more produce.
Additional findings regarding SNAP incentives from the HIP evaluation include the following.
HIP participants consumed almost a quarter of a cup more targeted fruits and vegetables than non-HIP participants.
HIP households spent more SNAP benefits than non-HIP households on fruits and vegetables—$12.05 versus $10.86 each month—an increase of $1.19 or 11%. HIP households earned average incentives of $3.65 each month.
HIP had relatively little effect on store operations. Most retailers reported that HIP purchases were easy to process. More than 90% of retailers reported no change in check-out time, and few retailers reported problems during the pilot.
In 2018, Voices for Healthy Kids provided grants to organizations in Hawaii, Massachusetts, Michigan, South Carolina and Washington to support policy campaigns to sustain, strengthen and/or expand existing SNAP incentive programs.
Hawaii Appleseed Center for Law and Economic Justice
In Hawaii, the cost of food is approximately 68% higher than the national average, making SNAP a critical resource for the nearly 170,000 residents the program serves. But aside from the highest food costs in the nation, there's another hurdle faced by Hawaii's struggling families who want to purchase nutritious foods: only one out of five farmers' markets in the state accepts SNAP.
"The way our food system is designed, it's just not affordable to buy healthy food," said Daniela Kittinger, Hunger Coalition Director at Hawaii Appleseed Center for Law and Economic Justice. "In general, cheap food is not healthy and healthy food is expensive. We need a more robust infrastructure that gives better access to fresh, nutritious foods to people who can't afford to travel to and shop at [high-end grocery stores]."
There are SNAP incentive programs operating around the state that are funded by a USDA GUSNIP grant and matching funds from private foundations. Notably, a Hawaii Island supermarket chain, KTA Super Stores, pioneered the nation's first point-of-sale system that deducts half of the purchase cost of locally grown produce. To help spread and carry on these types of efforts, Voices for Healthy Kids awarded a grant in 2018 to Hawaii Appleseed Center to lead an advocacy campaign seeking $1 million in state funding to support statewide replication of the national Double Up Food Bucks incentive program (see more about the model program under Michigan Fair Food Network below).
"We had tried to gain traction for the program in 2017, but we didn't succeed. The Voices for Healthy Kids grant gave us a stronger voice to advocate with the next year," said Kittinger, who oversaw the grant for Appleseed. "We used the grant funding to build a broader coalition and to employ media, messaging, and outreach to generate support. We also held a big campaign kick-off event [in January 2019], where we made informational materials available to advocates who then went out and testified and otherwise spread our messages."
The campaign's tagline was "triple win for Hawaii's families, farmers, and the local economy" because Double Up Bucks doubles participants' purchasing power while also doubling the sales income for grocers and farmers.
Kittinger said public health, obesity prevention and anti-hunger groups were the easiest to bring into the larger coalition. "The benefits of making healthy foods more readily available is something that resonates with lots of people," she said. She also mentioned that the campaign was able to engage the Hawaii Food Industry Association, but harder to reach were the local farmers, who haven't seen a lot of benefit yet from the SNAP program. "Hawaii draws down nearly $500 million in SNAP benefits, but less than $2 million of that reaches our farmers," Kittinger said. That is something the Double Up Food Bucks coalition hopes to change in the future by using state allocated funds to make it easier and more desirable for farmers' markets to participate.
The result of the coalition's efforts, in April 2019, the state legislature passed a $100,000 allocation ($50,000 per year for two years) for Double Up Food Bucks. "We aimed for $1 million and received $100,000, but this is a process that takes time," said Kittinger. "We're now approaching other funders in order to increase the capacity of a statewide network to run Double Up Bucks over the next two years. In fact, we've already raised $950,000 toward that effort. We'll also work on maintaining our momentum and continue to advocate for more support from the state legislature."
Looking ahead, Kittinger wants to engage more with SNAP participants. "We went to farmers' markets and spoke to SNAP participants about incentive programs, and they were very supportive," she said. "But many of them just don't have the time or resources to devote to volunteering for a campaign like this, as much as they might want to. I'd like to find some creative ways to help their voices be heard."
Help Inspire Change in Your Community
To learn more about this issue and how you can help mobilize a similar campaign, visit our SNAP Incentives Toolkit. Within our toolkit, you will find helpful information to build out your own advocacy efforts aimed at developing policies that support increasing access to healthier foods in your community!