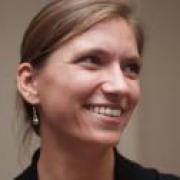 Katharina Obser
Katharina Obser is a Senior Program Officer in the Migrant Rights & Justice Program at the Women's Refugee Commission.
Blog Post List
Earlier this year, a woman named Clara arrived at the United States border seeking protection from gender-based harm she faced in West Africa. She had endured an arduous journey trying to reach the U.S. border, where officials registered her claim for asylum. Rather than release her to pursue her case, however, officials sent Clara into the vast network of immigration detention facilities across the U.S. Since arriving in this country, she has been treated like a criminal, shackled and transferred multiple times between different detention facilities, awaiting a final decision on her request...
The extraordinarily brave women and children I've met in family detention facilities fled here for a chance of a better life. We must do better by them than to lock them far away from lawyers and social services in a jail dormitory with a pretty name.