Take Action!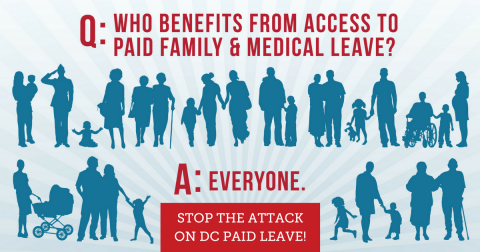 (Un)happy anniversary, DC!
Tomorrow marks exactly one year since the DC Council voted to pass the Universal Paid Leave Act, a groundbreaking law that will provide eight weeks of paid family leave, six weeks of family caregiving leave, and two weeks of personal medical leave.
I wish I could say we were still celebrating and preparing for its implementation, but instead we need to protect the law from being repealed and replaced with a weak and harmful alternative.
Tell Chairman Mendelson and the DC Council: STOP the attacks on the Universal Paid Leave Act – let the law be implemented!
Some of the very Councilmembers responsible for ushering the Universal Paid Leave Act to passage have done a one-eighty, succumbing to calls from corporate lobbyists to significantly weaken the law.
This is a troubling flip-flop. Constituents trusted Chairman Mendelson and the rest of the Council's word last year when they passed the Universal Paid Leave Act. But instead of being well on their way to implementing the law by 2020, the Council is entertaining harmful changes to the law that would be a major loss for all eight wards.
At an October 10th hearing, it became clear that this drastic about-face is delaying the law's rollout. "The uncertainty surrounding the scope and structure of the program itself is delaying our implementation of the law," the DC City Administrator, Rashad Young, said in testimony.
TAKE ACTION: Call on the DC Council to protect the Universal Paid Leave Act and drop the harmful delay tactics.
It's infuriating for a legislative body to turn around and attempt to gut a law like this right after its passage, especially the very same body that passed it. This uncertainty is creating even more economic anxiety for families for whom access to paid leave can literally be a matter of life or death.
When it comes to what happens next, the Council has a choice: working families or corporate lobbyists.
Tell Chairman Mendelson and your other Councilmembers to remember who they represent and stop the attack on DC paid leave!
Together, we're a powerful force for women and families in DC.