Toxic Chemicals Lobby - Exclusive Leaked Footage!
The secret is out: the toxic chemicals industry is designing a PR campaign for survival! Bisphenol A in baby bottles, water bottles, and food cans. Formaldehyde in furniture. Phthalates in air fresheners, soft plastics, and fragrances. The manufacturers of these chemicals are not taking the push for regulation lying down (despite their public claims of support for safety). Don't be duped!
View the spoof video the Safer Chemicals, Healthy Families coalition created to galvanize public support for Congressional action, and have fun with a pretty serious issue. The characters you will meet in the video are cartoons, but the plot is ripped straight from the headlines. (Just go to the industry funded "Coalition for Chemical Safety"
or read one of Richard Dennison's exposes and you'll see what I mean.)
Please watch the video and then share it to help spread the word!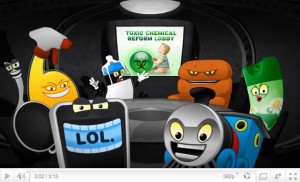 Chemicals aren't sitting still – and neither should we!
We need Congress to act now, to make sure the products we reach for, sleep on, and eat from every day aren't loaded with toxic chemicals. You can help Congress stay strong in the face of chemical industry push-back; but only if you speak out.
This is our time to make toxic chemicals history! Let's tell Congress to strengthen and reform the law so that the most dangerous chemicals are taken off the market and that chemicals are safe for use before being added to products. Act Now!
Janelle Sorensen is the Senior Editor and Outreach Director for Healthy Child Healthy World, a proud member of the Safer Chemicals Healthy Family coalition representing more than 11 million individuals and includes parents, health professionals, advocates for people with learning and developmental disabilities, reproductive health advocates, environmentalists and businesses from across the nation.