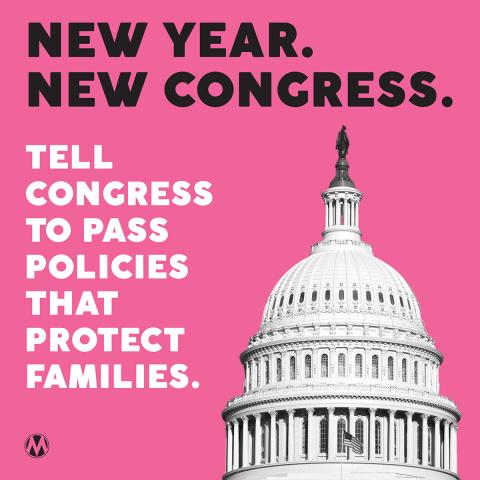 Top #5Actions of the Past Week: Sunday, February 12, 2023
This week's #5Actions includes several critically important actions for you to take where your voice is urgently needed – and closes with a recap of the powerful State of the Union, when so many of our top policy priorities were lifted in President Biden's remarks. Our top policies were highlighted in the State of the Union in no small part because YOU (and we) have been persistently insisting that key policies like childcare, paid family/medical leave, eldercare, fair pay stay in the spotlight and get addressed.
Thank you.
Take a look below for quick ways to leverage your voice to help create needed change.
-- Sue Anne, Kristin, Selina, Gina, Elyssa, Felicia, Kelsey, Tasmiha, and the rest of the MomsRising.org & MamásConPoder Team
Demand changes to policing and justice for Tyre Nichols!
The recently released video footage of the vicious killing of Tyre Nichols by Memphis police officers is terrifying to watch. What began as a traffic stop on January 7th ended in the savage beating of the beloved father and son at the hands of five police officers. It is time to reimagine public safety and stand with other community members to demand substantive changes to policing.We know we can build a movement for paradigm-shifting investments in non-carceral, life-affirming safety approaches and we call on the Memphis City Council to lead the way on making these changes.
Join the call for justice by signing onto our petition urging the Memphis City Council to take action!
Demand Justice for Kennan Anderson! LAPD Police Chief Michel Moore must go!
On January 3, 2023, Keenan Anderson was murdered by the hands of the LAPD for a nonviolent minor traffic violation. We are backing up local organizers who say LAPD Chief Michel Moore has failed the people of Los Angeles. He must go. Time and again, he has failed to hold cops accountable or enforce de-escalation protocols on the street. As a result, the LAPD disproportionately kills individuals who are Black and/or suffering from mental health challenges.
Join MomsRising in calling upon Mayor Karen Bass to not reappoint Police Chief Michel Moore - sign our petition NOW.
Quick signature to lower drug prices!
No matter our race, place, or politics, most of us want similar things: to make a good living, to care for our families, and to have the best chance possible to be healthy. The Inflation Reduction Act (IRA) was a good start down the path to lowering prescription drug prices. It placed a $35 cap on insulin for people 65 and over and for the first time allowed Medicare to negotiate prices on a limited number of drugs each year.
But still far too many people with private insurance, or who are uninsured, are struggling to afford life-sustaining and life-saving medications. There's much more work to be done. It is past time for Congress to act to rein in high drug prices!
We need Congress to act to save lives by reducing prescription drug prices for all of us!
Quick signature: Tell Congress that everyone deserves to have health care coverage!
Everyone, regardless of race, class, or zip code, deserves to have health care coverage. Yet, there are still 11 states that have refused to expand Medicaid to low-income adults under the Affordable Care Act. The majority of the over 2 million people who are currently in this "coverage gap" are people of color.
Closing the unfair coverage gap is important to help end discrimination in health care coverage. The uninsured rates among Black and Latinx/Hispanic adults remains disproportionately higher than that of white adults, especially in these states.
Quick signature: Tell Congress that everyone deserves to have health care coverage!
New year! New Congress!
President Biden powerfully lifted up so many of MomsRising's top policy areas in the State of the Union. Now it's up to the new Congress to pass these important policies for our families and economy. SIGN our letter to the new Congress telling them to prioritize President Biden's State of the Union policies and the top priorities for moms around the country.
SIGN our letter to the new Congress now telling them the top policies we need them to prioritize in 2023.
P.S.– The 2023 State of the Union was proof that the powerful work we're doing is being noticed. We nearly covered our entire 2023 BINGO card, many members of Congress proudly donned crayon pins in support of Child Care, several MomsRising members attended with their members of Congress, and Momsrising members were able to share their stories. Check out our video recap here, or for a more in depth account you can read the full article here. THANK YOU for being a powerful force!