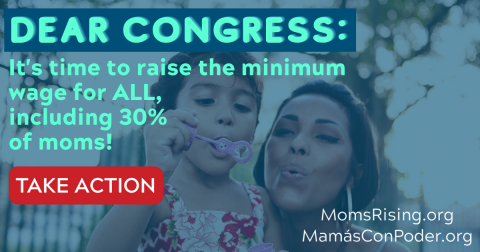 Top #5Actions of the Past Week: Saturday, August 14, 2021
We are on the edge of making major history together! In breaking news, key care infrastructure components have moved forward this week in the U.S. Senate (including childcare for all and universal paid/family leave) propelled by voices like yours! THANK YOU! Now, we need to move these same policies forward in the US House.
So this week we have #5Actions for you to take that keep building the momentum to help make that happen – including helping us drop off stories at your local Congressional offices (a powerful way to make a big impact that doesn't take a ton of time). We also have actions on passing the wealth tax, supporting a stronger minimum wage, and boosting the expanded Child Tax Credit.
Thank you for all you do to help families!
-- Sue Anne, Kristin, Sara, Elyssa, Jordan, Claudia, Felicia, and the rest of the MomsRising / MamásConPoder Team
How does the Child Tax Credit help your family?
The second round of the newly expanded Child Tax Credit checks should be landing in your bank account (or mailed to you) in the next day or so. As a reminder, 90% of families qualify for this amazing tax credit and you could be getting up to $300/child each month. We have lots of information for you about the Child Tax Credit (including how to sign up if you are not already getting it) on our CTC website.
But we also want to hear from YOU about how the Child Tax Credit is helping your family. The expanded Child Tax Credit is a big deal, but unless Congress takes immediate action, we'll only be able to get the monthly payments for this year! We need your stories to convince our elected leaders to make the expansion of the Child Tax Credit permanent. (You can even share anonymously).
There is no time to waste — tell us how you and your family are boosted by the newly expanded Child Tax Credit.
A "We Care" Button for building a Care Economy
This free button is for moms and family members ready to take action over Congressional summer recess to help make once-in-a-generation change! . We're fighting for Congress to finally build a care economy, including childcare for all, universal paid family/medical leave, making permanent the expanded Child Tax Credit, and other policies families and businesses need to recover from the pandemic and thrive moving forward. And… we're on the edge of winning these policies, but we need your extra help to get across the finish line! MomsRising is mobilizing thousands of volunteers across the country to deliver storybooks to a nearby office of their U.S. House or Senate member.
Sign up to drop off MomsRising's Care Economy storybook at the local, in-district constituent office of one of your Congressional representatives before Labor Day. We'll mail you the storybook to deliver and the button for you to wear during your drop off. So EASY!
Why are investments in our care infrastructure important to your family?
Right now, moms and families in America face a wholly inadequate care infrastructure including: a lack of national universal policies relating to childcare, paid family and medical leave, living wages for care workers, home and community-based services, permanent improvements to the Child Tax Credit and Earned Income Tax Credit, access to unbiased health care and reproductive services, and a path to citizenship for immigrants, many of whom are caregivers.
Record a quick video (less than 60 seconds) to tell us why care infrastructure is important for your family! – or click here to watch some videos for inspiration!
A living wage for all workers and families!
We have a wage shortage on our hands, across the nation. Maybe you know this firsthand when you crunch numbers in your head to budget for food and rent, or maybe you've noticed that many businesses are having a difficult time finding, hiring and maintaining staff that can afford to make the minimum wage. It's undeniable that the minimum wage has become a poverty wage instead of an anti-poverty wage.
To boost families and our consumer-driven economy, add your signature to our letter asking Congress to PASS the Raise the Wage Act!
Tell Congress: Pass Senator Warren's Wealth Tax NOW
Jeff Bezos, the richest man in the world, took a 10 minute joyride into space which he was able to self-fund partially because he paid zero federal income taxes in 2007 and 2011. And while his wealth grew by $99 billion from 2014 to 2018, he paid just $973 million in federal income taxes. If Senator Elizabeth Warren's wealth tax was implemented though, Bezos would have owed $5.7 billion in taxes in 2020. It's time for the ultra-wealthy to pay their fair share!
SIGN OUR PETITION calling on Congress to pass Senator Warren's Wealth Tax