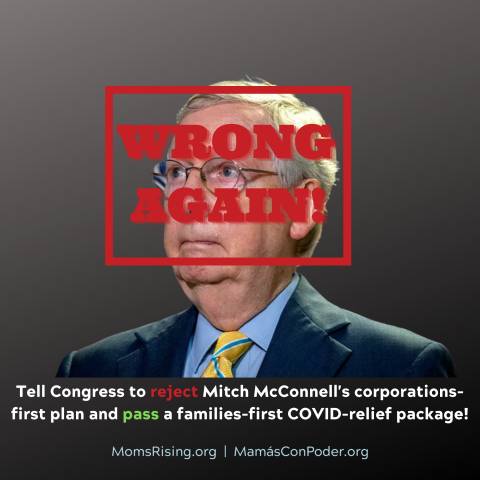 Top #5Actions of the Past Week: July 31, 2020
It's hard to believe it's already the end of July. While we are gearing up for the elections in less than 100 days, we have some critical actions for you to take this week -- primarily related to COVID-19 relief. We need your help to urge Congress to extend unemployment insurance, protect the CDC and make sure women and families and are protected in any relief package.
Please scroll down to find urgent actions on all these issues below.
1. SIGN our letter rejecting Mitch McConnell's weak COVID-relief plan!
BACKGROUND: The clock is ticking! We need Congress to pass a strong, bold, comprehensive COVID-relief package immediately so struggling families and our economy can begin to recover from this pandemic. Last week the federal eviction moratorium expired and today the $600/week boost in unemployment benefits expires. We need help and we need it now! But we don't need what Senate Majority Leader Mitch McConnell is offering up--a corporations-first, families last approach to COVID-relief!
**ACTION: SIGN OUR PETITION NOW telling Congress to reject Mitch McConnell's COVID-relief plan and replace it with a families-and workers-first comprehensive plan that benefits those in need and our economy, not already wealthy corporations!
4. Call your Senators to say #ExtendUI
BACKGROUND: The clock is ticking! If Congress doesn't take action in the coming days, millions of struggling families will lose their extended unemployment benefits that were passed in the CARES Act. That $600/week boost in benefits is crucial for unemployed workers making ends meet. We need you to call your Senators on Monday and tell them to extend unemployment insurance and protect the $600/week boost in benefits. Remember to make your call on Monday when your Senators are back in their office. In the meantime, you can also check out our #ExtendUI social media toolkit to post information on Twitter, Facebook, and Instagram (and don't forget to tag your Senators!).
**ACTION: Text "ExtendUI" to 747464 and we'll connect you directly to your Senator's office.
3. Historic vote in the House on child care thanks to YOU!
BACKGROUND: Yesterday, in a historic vote, the House passed both the Child Care Is Essential Act and the Child Care for Economic Recovery Act would ensure a $50 billion stabilization fund for the child care sector at this time when programs around the country are closing and the lack of quality, affordable child care has become a national emergency. This win is thanks to all the parents and child care providers who have been speaking out for months on the need to save child care. Parents like Julie Groce and Diana Limongi, MomsRising members who recently spoke on their child care experiences at a congressional hearing on child care with Deb Perelman of Smitten Kitchen.
**ACTION: Watch them by clicking this link, and then text "SaveCC" to 747464 to urge the U.S. Senate to quickly pass these bills as well and #SaveChildCare.
4. Quick signature: Tell the Trump administration and Congress to protect the CDC and fund testing and contact tracing!
BACKGROUND: The Trump administration is trying to conceal its mismanaged response to the COVID-19 pandemic by blocking funding for testing and attacking the Centers for Disease Control (CDC) at every turn! Moms know from years of playing peek-a-boo that just because you try to hide something doesn't mean it actually disappears. This underhanded attempt to control our public health data and cut funding for the CDC (and testing!) must be stopped!
**ACTION: Quick signature: Tell the Trump administration and Congress to fund the CDC, testing, and contact tracing to combat COVID-19!
5. Immigrants are putting their lives on the line to fight COVID-19!
BACKGROUND: Immigrant Americans make us healthy—healing our ailments—and bringing the fresh approaches, courage, and tenacity that help us be well. Immigrants make up 16% of health care workers, 26% of home health care workers for the elderly, and 20% of the workers in food and domestic household services in the U.S. They are putting their lives on the line to fight COVID-19.
**ACTION: Are you an immigrant who is on the frontlines of fighting the COVID-19 pandemic (health care, home health aids, sanitation, and other essential positions)? Tell us your story!
P.S.
Take action and sign this letter to President Trump, Congress and ICE to make sure families are released together.