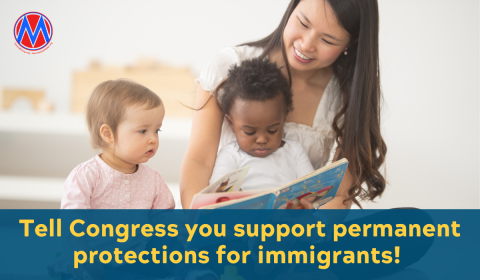 Top #5Actions of the Past Week: Friday, September 30, 2022
It's Fall Y'all!
As someone who lives in the south and had to deal with a very warm summer with lots of temperatures above 100, I can't tell you how excited I am for sweater weather with cooler temps, changing colors, and all the things that come along with the autumnal season.
It's also a very busy time in Washington DC and we need to continue to let our elected representatives know how important it is for them to focus on the priorities important to American families.
Plus: With the mid-term election less than 5 weeks away, we also have a special opportunity for you to help Get Out The Vote in November. (Scroll down to check it out!)
Always remember that if you've already taken some of these actions, we would appreciate you sharing them with your networks. That's a powerful action too!
-- Sue Anne, Kristin, Tina, Felicia, Elyssa, Claudia, Taylor, and the rest of the MomsRising.org & MamásConPoder Team
We can prevent stillbirths. Urge the U.S. Senate to Act!
Tragically, 23,500 babies (65 a day) are stillborn every year in the United States - that is more deaths than prematurity, SIDS, car accidents, drowning, guns, fire, poison, and flu COMBINED. This week MomsRising was grateful to join with partners and families from SHINE for Autumn Act To Help End Preventable Stillbirths, Count the Kicks, March of Dimes, and PUSH for Empowered Pregnancy on Capitol Hill to raise awareness around stillbirth prevention.
The SHINE for Autumn Act, named after Autumn Joy, who was stillborn on July 8, 2011, takes critical steps to invest in research and data collection required to better understand and prevent stillbirth in the United States. SHINE is a part of a longer-term solution towards the prevention of stillbirth in the United State.
Add your name to our letter calling on the Senate to enact the Stillbirth Health Improvement and Education (SHINE) for Autumn Act!
Quick signature in support of nondiscrimination in health care!
The Biden-Harris administration is currently accepting public comments on a proposed rule to reinstate the Affordable Care Act's (ACA) important nondiscrimination requirements, which were weakened by the Trump administration – and we need your voice!
Section 1557 of the ACA, known as the "Health Care Rights Law," was originally written to, importantly, take positive steps to prohibit discrimination by federally-funded health care providers and health insurance companies based on factors like race, ethnicity, language, age, disability, and sex – including pregnancy, sexual orientation, and gender expression.
Sign on: Tell the Biden Administration you support access to health care for everyone without discrimination!
Why is Marriage Equality Important to You?
LGBTQIA+ families deserve the same stability and equality as all Americans - to plan for their futures with a sense of security and to build their families on their own terms. Personal experiences are powerful and can make a HUGE difference in helping lawmakers understand how the policies they make impact families.
Do you have a personal experience to share about why marriage equality is important for your family?
Tell Pampers: Lower your prices on diapers!
If you're using diapers in your family right now you've probably noticed that the cost keeps going up, but you may be surprised by just how much. And if you're not using diapers - you may be shocked to learn that the cost of diapers has gone up 22% since 2018, making them harder to afford than ever. And before you say "inflation" here's the kick - inflation can only account for 9% of that increase in price. Meanwhile, the CEO of Procter & Gamble, the maker of Pampers, has hiked his own pay to $1,191,000 with a bonus of more than 2.5x his base salary! Umm….not cool. This is yet another example of the rich getting richer and lining their own pockets, but parents are paying the price. Diapers, a basic necessity, are being pushed out of reach for families. That's bad for business and bad for babies.
That's why we're joining with our partners at Parents Together to tell Pampers: If you're really "dedicated to every baby's happy, healthy development," you'll stop price gouging. Add your name to our letter now! We're delivering it very soon!
Sign Now to Tell Pampers to Stop Price Gouging
Tell Congress you support our nation's immigrants!
Currently, there's a bill in the U.S. House that could help permanently protect some of our nation's immigrants and get us one step closer toward rebuilding our nation's care infrastructure. The registry bill would update a law already in the books since 1929 and that's been repeatedly updated over the years! Currently a person must have entered the U.S. before 1972 to qualify for the permanent protections of a green card. Unfortunately, the existing law hasn't been updated since 1986, so it's pretty much obsolete at this point. But the Registry Bill could change that and provide protections for those who arrived prior to 2010.
Supporting permanent protections for immigrants is a key step toward rebuilding our economy and our care infrastructure! Did you know nearly 23 million immigrants have put their lives on the line in essential roles since the start of the pandemic? And over 5 million are undocumented. Immigrants took on vital roles that helped keep our children and families healthy, and keep our child care, health care system, long term care, food supply chain, and our economy running. Without their hard work we wouldn't be recovering now.
SIGN to get Congress on board & protect immigrants by supporting the registry bill!
P.S.– Help us send 1 million voting reminder postcards to moms who haven't always voted in the past to help them exert their voting power this November. Sign up to receive free packets of 20 pre-stamped, pre-addressed, gorgeous, eye-catching postcards for you to fill out in a jiffy and drop in the mail before the November 8th elections. Get your free postcards now