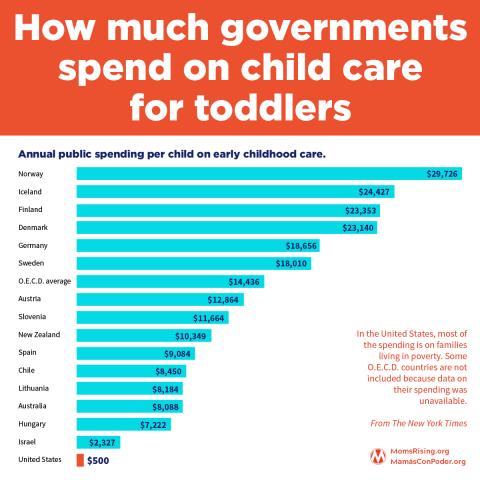 Top #5Actions of the Past Week: Friday, October 22, 2021
It's go time! Congress is negotiating now to decide what will be in the care infrastructure package that they hope to pass within weeks! We need to keep the pressure on to ensure that our leaders are focused on the priorities important to America's families.
Our #5Actions this week are a quick and easy way for you to stay involved and let our leaders know how you feel about ensuring everyone has access to affordable and culturally competent healthcare, including abortion care, child care, paid family and medical leave, and more!
We appreciate all you do. Together, we are powerful!
-- Sue Anne, Kristin, Felicia, Diarra, Nadia, Tina, Jordan, and the rest of the MomsRising / MamásConPoder Team
Quick signature for health equity!
Even amidst a pandemic, there are still 12 states that have refused to expand Medicaid to low-income adults under the Affordable Care Act. The majority of the over 2 million people who are currently in this "coverage gap" are people of color. Congress is currently considering a provision in the Build Back Better package that would permanently, quickly, and comprehensively close the coverage gap.
Quick signature: Tell Congress that everyone deserves to have health care coverage!
Tell us your family's health care story!
Personal experiences are powerful and can make a HUGE difference in helping elected leaders and our communities understand the REAL impact of health care policies on families. Right now, Congress is considering a number of health care provisions that would help families across the country and we need to hear from you! Have you or a family member:
Been unable to afford quality, affordable health insurance?
Had an illness or disability that requires expensive prescription drugs or frequent medical visits, treatments, or surgeries?
Needed to access Home- and Community-based Service (HCBS)?
Gotten health insurance coverage through your state's Marketplace, Medicaid, or CHIP program?
Tell us about your experience and we'll share your story directly with leaders!
Tell Congress to Support Critical Investments in Maternal Health in the Build Back Better Act!
The state of maternal health is in crisis, especially for Black women and Native families and communities.
Right now, the United States is the most dangerous place to give birth in the developed world, with major racial disparities where Black women lose their lives at 3 to 4 times the rate of white women due to maternity-related causes, independent of age, economic background, or education, a fact that has gone unchanged for several decades. If we're going to save our moms, we need everyone to be a part of the solution.
We know that at least 60% of maternal deaths can be prevented and infant mortality reduced with investment in public policies and culturally competent care. Together we can tackle this crisis.
TAKE ACTION NOW -> Tell your member of Congress to support critical investments in maternal health in the Build Back Better Act!
Other countries support care, why don't we?
The NY times recently shared shocking statistics about early child care support in the United States. It turns out rich countries contribute an average of $14,000 per year for a toddler's care, compared with just $500 in the U.S. The US ONLY spends $500 on early child care compared to similarly resourced nations! In Europe, new parents have paid leaves of 14 months, on average, and it's common for children to start public school at age 3.
Building a care infrastructure is key to changing these shameful numbers from the U.S. and supporting our families and providing the recovery our nation needs.
Take action to urge our Congress to support kids and families by passing the care infrastructure package (including child care, paid family medical leave and the CTC) ASAP!
Build Back Better: Call Your Senator Today
Moms, dads, caregivers, care workers, families, businesses, and our economy need a care infrastructure that includes paid family and medical leave, child care investments, home- and community-based services for older people and people with disabilities, a fully refundable Child Tax Credit (CTC), living wages and a path to citizenship for all care workers.
You can let your Senators know that we need to Build Back better with these priorities. When you fill out the form and click "make the call", we will connect with you with a Senator in your state.
P.S.– A new abortion restriction law in Texas, commonly known as Senate Bill 8, sets a dangerous precedent for the country. It bans abortion after only six weeks of pregnancy (before most people even know they're pregnant) with no exception for pregnancies resulting from rape or incest. The law allows people seeking an abortion, helping someone seek an abortion, or performing an abortion to be sued by any member of the public who is not an employee of the state. Victorious plaintiffs collect a bounty of at least $10,000 from any such defendant. Our Congress must take action now to protect our reproductive rights, regardless of where we live. Sign on to urge your Member of Congress to pass the Women's Health Protection Act (WHPA). The Women's Health Protection Act will ensure that people have access to quality, affordable, and compassionate reproductive services and abortion in their state.