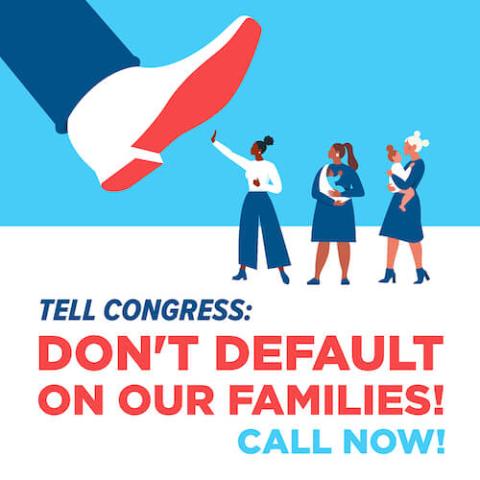 Top #5Actions of the Past Week: Friday, May 26, 2023
SIGN NOW to protect WIC!
WIC is getting attacked from all angles. The House Republican budget not only holds our families hostage by calling for across-the-board cuts to programs like WIC in order to raise the debt ceiling to avoid default in the next two weeks, they also want to gut fruit and vegetable benefits by nearly 62%, dramatically decreasing access to nutritious foods for nearly five million women and kids enrolled in the program.
With rising food costs, and increased program participation, it is more critical than ever that we strengthen WIC to provide pregnant people, new moms, infants, and toddlers with the nutrition assistance, formula, and breastfeeding counseling they so desperately need.
SIGN our letter calling on Congress to protect and robustly fund WIC!
Tell your Members of Congress don't default on our families. Pass a clean raise in the debt ceiling now
We are less than a week away from the U.S. defaulting for the first time ever….and it's a massive deal! Extremist Republicans in the House of Representatives, led by Speaker Kevin McCarthy (R) are using a threat to not raise the debt ceiling (which would cause economic chaos in the U.S. and around the world) in an attempt to force Democrats to cut critically important programs that lift families and the economy like Medicaid, Medicare, food stamps (SNAP), WIC, child care, veteran's programs, and other vital programs that are necessary to our nation's families, businesses, and economy. In addition, Republican leadership wants to enact harmful work requirements and time limits for poverty-reducing, life-saving programs like SNAP and Medicaid. Outrageous!
Once you fill out your information on our call-in page you will be connected directly to your U.S. Senator's office. Once you complete your call you will be given the opportunity to also call your other Senator and your Representative (we'll automatically connect you). The call-in page has talking points but the message you should leave with your representative's office is very simple: "Don't default on our families by cutting our programs. Raise the debt ceiling now!"
Use your voice and take action TODAY! Use our call-in line to demand our lawmakers step up to the plate, protect vital programs from cuts, and pass a clean debt ceiling immediately.
Have you or someone you love needed abortion services?
Personal experiences are powerful and can make a HUGE difference in helping our communities and elected leaders understand how public policies impact families. Now is the time to share how access or lack of access to abortion has impacted you and/or someone you love. We know this can be a difficult story to share for some people, but rest assured, you can even share your story anonymously.
Your participation to protect the health care already in place is needed now more than ever! Your story matters to us. Please share your story about needing access to abortion care now!
Protect our reproductive rights! Tell everyone you know to sign the People's Amicus Brief
We have had thousands of people sign the petition to protect medication abortion. Now, we need you to share this action with 5 people, asking them to sign in order to reach our goal of 500,000 signatures.
If you don't have a Facebook account, then below are two very simple ways you can join in on the action →
Copy the following link and share it in your online communities (Twitter groups, Instagram community, etc.) Link: https://action.momsrising.org/sign/protectmife
Forward this email RIGHT NOW to five friends, and to add a personal note about why this issue matters to you! Adding a personal note can make a big difference in whether or not your folks take action.
We need all hands on deck so please join this fight and share the People's Brief right now! Every signature counts.
TELL CONGRESS: Pass the Black Maternal Health Momnibus!
The United States is the most dangerous place to give birth among high-income countries. Black women are bearing the brunt of this crisis, losing their lives at 3 to 4 times the rate of white women due to maternity-related causes, independent of age, economic background, or education. Recent CDC data show that the majority of these deaths are preventable. Federal action is needed! The Momnibus is a robust package of evidence-based bills that we have momentum on—President Biden has already signed one bill into law, but Congress must pass the entire Momnibus.
Let lawmakers know to pass the only comprehensive legislation that will help solve the maternal health crisis!
-- Sue Anne, Kristin, Elyssa, Diarra, Gina, and the rest of the MomsRising.org & MamásConPoder Team