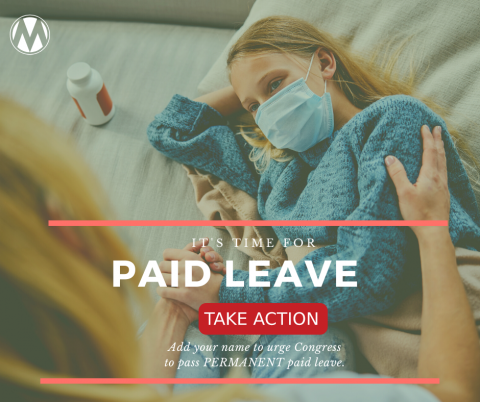 Top #5Actions of the Past Week: Friday, March 12, 2021
It's time to do a happy dance! Yesterday, in no small part because members like you raised your voices, President Biden signed the American Rescue Plan into law! This important legislation directly supports families at a time when it's most needed. None of this would have been possible without all of your work calling your Representatives and Senators, signing petitions, writing letters to the editor, sharing your stories, and so much more. THANK YOU! Your voices are powerful and do make a big difference.
The American Rescue Plan is a big step forward for our nation in a time of tremendous need -- and we also have so much more to do. This week's 5Actions includes actions on fair immigration policies, paid leave for all, and expanding health care coverage for kidney patients.
Thank you for all you do to make America a better place for every family!
-- Sue Anne, Kristin, Claudia, Felicia, Ruth, Jordan, and the rest of the MomsRising / MamásConPoder Team
Modernize our immigration system to protect families!
We need Congress to pass a fair immigration plan that keeps children with their parents, offers a roadmap to citizenship, and ensures the well-being of families. The good news is that many legislators are getting to work. There is now some hope on the horizon for creating a fair immigration process! Legislation is being introduced in Congress that will help heal our nation and rebuild our immigration system into a fair and humane process for all families.
Sign on! We need bipartisan support, so please tell every member of Congress to pass fair immigration legislation that protects immigrant children and families!
Paid Leave for All. Now.
We are one of the only countries in the world without a national paid leave policy, which meant that when the pandemic hit, we were unprepared. It should be a given that you should not work and spread illness when you are critically sick and recovering, that you should never have to choose between your family and your paycheck, your life and your livelihood. Our families need and want a sustainable paid leave policy in place so that families and businesses are never scrambling for piecemeal solutions when critical illness strikes, a serious family caregiving crisis arises, or a new child arrives. This bears repeating: Paid leave is the key to our long-term health, stability, and prosperity. Paid leave saves jobs. Paid leave saves lives.
Add your name now, demanding our members of Congress move quickly to pass permanent paid leave.
Tell Congress to Expand Health Care Coverage for Kidney Patients!
For people with End Stage Renal Disease (ESRD), their kidneys are beyond repair. This means they must regularly access dialysis treatments or receive a transplant and take medications to stay alive—all of which are incredibly expensive. ESRD is non-reversible and fatal without treatment and can impact anyone, at any age. ESRD also disproportionately impacts people in Black, Latinx, and indiginous communities, as well as people with disabilities (and is in and of itself considered a disabling condition). Additionally, almost 10,000 children and adolescents in the U.S. are living with ESRD.
Quick signature: Tell Congress to pass the Jack Reynolds Memorial Medigap Expansion Act NOW!
America Is Safer and Stronger, and Our Futures are Brighter, Because the American Rescue Plan Is Law
Yesterday, President Biden signed the American Rescue Plan into law. America's moms thank President Biden, Vice President Harris, and every lawmaker who fought so hard for the American Rescue Plan. Each time a family goes to a grocery store instead of a food bank, each time a school reopens safely, each time a family can keep the heat on instead of shivering through the winter, we will know the American Rescue Plan is working. Every time a mom is able to re-enter the workforce, the American Rescue Plan is kicking in.
Read the rest of the statement from MomsRising about the American Rescue Plan.
Get the latest actions with our mobile alerts
As we move through 2021, and especially as we work with the new Congress in passing legislation MomsRising's Mandate for America, the easiest way for us to connect you with your Senators and Representatives is via mobile messaging.
Please sign up by texting MOMS to 747464 and you'll receive the latest actions on your phone.