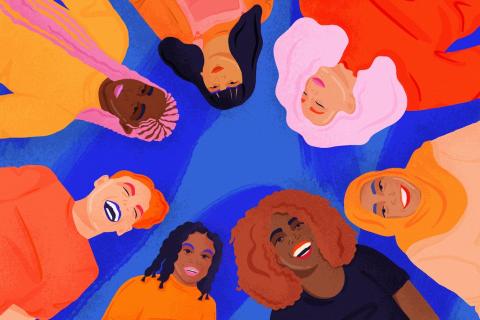 Top #5Actions of the Past Week: Friday, June 11, 2021
Summer is here, and we are excited today to launch our new summer postcards for change campaign as one of this week's #5actions! We know from our massive campaign last year that hand-written postcards are both personal and POWERFUL. Now, we're going to blanket the US Senate with postcards from YOU, letting our leaders know that #CareCantWait. Just like we need to build bridges and roads to get to work, we need to build a care infrastructure too -- including childcare, paid leave, and living wages -- so parents can go to work, children can thrive, and care workers can be paid living wages!
We hope you sign up for this limited-time and FREE postcard opportunity, and that you sign and share this week's other top actions as well. Thank you for all you do!
-- Nate, Sue Anne, Elyssa, Ruth, Sili, Felicia, Kristin, and the rest of the MomsRising / MamásConPoder Team
Join Our Summer Postcard Campaign!
It's time. Childcare, paid leave, and living wages can't wait. This summer, members of Congress are debating what to put in the infrastructure and recovery package -- and we need to raise our voices and send as many postcards as possible their way to let leaders know that building a Care Infrastructure is essential! Sign up today to receive your packet of 25 pre-stamped, pre-addressed postcards that you will fill out and then mail directly to US Senators now to urge them to build the Care Infrastructure we all need ASAP. Don't have time to write postcards but want to support the campaign, make a donation today!
Send Postcards to the U.S. Senate -> We Need Roads, Bridges, and a CARE Infrastructure!
Summer of Paid Leave
We know you're busy. We know it's still hard right now. And we also know that members of Congress ARE RIGHT NOW figuring out what to put in the legislation that they will be moving forward to build back our country after the pandemic… and we can't let them forget to put in paid leave for all. Your voice is needed NOW to help keep paid leave on the national agenda.
Let's make this the summer we win paid leave. Click here to sign our petition now!
Quick signature! Tell Congress to lower drug prices!
With the passage of the American Rescue Plan, we are delighted that President Biden has made strides in making health care more affordable. However, there is still a lot of work to do when it comes to prescription drug affordability for families. Americans should not pay three times more for medicines than people in other countries do. There are solutions and our government can fix this. Thankfully, more and more people (across party lines) support government action to help cut the cost of medications—and now we have the momentum to make Congress take action!
Quick signature: Tell Congress to take action to lower prescription drug prices.
Tell Congress: Save unemployment benefits!
This weekend marks the first of over twenty states with Republican Governors who have shamefully decided to end federal unemployment benefits for millions of workers and their families. The first four states to prematurely end federal unemployment benefits this weekend are Alaska, Iowa, Mississippi, and Missouri. A new report by our partners at the National Unemployment Law Project has found that this action will lead to three quarters of the workers now receiving jobless aid—nearly 2.3 million people—being left with no state or federal jobless aid at all.
This decision disproportionately harms women, moms, and communities of color and will further stall the economic recovery if allowed to continue. We need our elected leaders in the U.S. Congress to step in and make sure unemployed workers are able to continue to receive federal unemployment benefits, including the $300/month boost in federal benefits that are helping so many families make ends meet.
SIGN OUR LETTER NOW calling on Congress to protect unemployed workers and continue increased and expanded benefits for struggling families!
We want to hear from you about your caretaking struggles!
We know that many moms around the country are still struggling with the fall out of the pandemic. Moms are struggling to make ends meet and are unable to return to work full-time because they don't have dependable childcare or access to paid family and medical leave. Right now it's super important that MomsRising and our elected leaders in Congress hear from YOU about what you are going through! We need your stories to put pressure on our elected leaders to quickly pass childcare, paid leave, and other policies that support moms and families.
Tell us about your struggles with childcare and paid family and medical leave and we'll share your #CareCantWait experiences directly with policy makers and leaders (you can even do it anonymously)!
P.S.– If you missed the IG Live with actor Jason Winston George and our Executive Director, Kristin Rowe-Finkbeiner talking about paid leave, we got you covered. Check it out here!