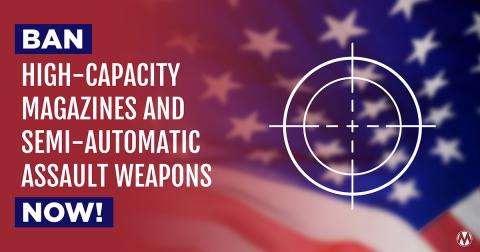 Top #5Actions of the Past Week: Friday, April 7, 2023
Send a Letter to the Editor to protect SNAP!
Our families are struggling enough as it is to afford the rising costs of food. But now extremist Republicans in the U.S. House of Representatives are planning to make it even harder for many families to feed their children by making massive cuts and restrictions to the Supplemental Nutrition Assistance Program (SNAP or food stamps). Members of Congress are home right now for their April recess and we want to flood local newspapers with messages on the importance of protecting SNAP.
Send a Letter to the Editor to your local newspaper NOW speaking up for the protection of SNAP! (Don't worry–our cool tool makes it super easy for you to submit a letter to your local paper. We'll walk you through all the steps and even supply sample language!)
Tell Congress to stop glorifying guns, starting with a ban on assault weapons!
Military-style semi-automatic assault weapons and high-capacity magazines are the firearms of choice for mass shooters, used in mass shooting tragedies from Sandy Hook to Parkland, Charleston to Atlanta, Pittsburgh to Las Vegas, El Paso to Buffalo, and now Nashville. They are designed to efficiently kill as many people as possible in the shortest amount of time. There's no good reason for civilians to own assault weapons and high-capacity magazines, which are the ultimate symbols of gun glorification that are turning our schools, malls, concerts, movie theaters, places of worship, stores, highways, parades, other public spaces, and even holidays into war zones filled with terror, devastation and terrible loss.
Tell Congress to stop the gun glorification and ban assault weapons and high-cap magazines now!
Quick signature: Tell Congress no cuts to Medicaid!
Right now, some Republicans in Congress are threatening to crash the U.S. and world economy by refusing to lift the debt ceiling (the amount our government can borrow to pay our existing bills which also happens to be a totally arbitrary number) in order to extract massive cuts to critical programs for families like Medicaid. We cannot let them play chicken with our health care.
We cannot let them play chicken with our health care. Tell Congress: No cuts to Medicaid!
Urge your Member of Congress to protect access to abortion care by passing WHPA
It's been over eight months since the U.S. Supreme Court overturned Roe v. Wade, striking down our constitutional right to abortion in the United States. And as of February 2023, abortion is completely illegal in 12 states, leaving millions without abortion access in their home state. Our lawmakers must understand that passing a federal bill will protect the right to access abortion care throughout the U.S. by safeguarding us against the harsh bans and medically unnecessary restrictions in which we are currently experiencing, living through, and witnessing every single day on the state level. The Woman's Health Protection Act (WHPA) is an important step forward in ensuring that people have attainable access to quality, affordable, and compassionate reproductive services and abortion in their state.
Stand with people and communities fighting for racial, economic, and reproductive justice. Sign on with us!
Do you have experience with Medicaid?
Medicaid is a life-saving and life-sustaining health insurance program for over 84 Million people in the U.S. It helps to keep our children, families, and communities healthy. Please tell us about your experience with Medicaid! Personal experiences are powerful and can make a HUGE difference in helping elected leaders and our communities understand the REAL impact of Medicaid on families.
Tell us about your experience and we'll share it directly with leaders