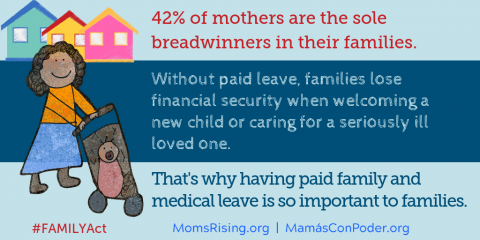 Top #5Actions of the Past Week: February 7, 2020
What a week. The work continues, and we the people will Keep Marching to ensure our economy and our country work for all of us. This week's list of top actions includes important items on youth incarceration, protections for pregnant workers, paid family leave, and more. Please be sure to scroll down and sign them all. 
Here's the list ->
1. Tell Congress: Support the Pregnant Workers Fairness Act!
BACKGROUND: Despite the Pregnancy Discrimination Act's requirement that pregnant workers receive equal treatment, the fact is that some employers are still firing pregnant workers for requesting simple, medically-necessary accommodations, like avoiding heavy lifting or being able to take extra water breaks. Discrimination is the last thing you should have to worry about when you're pregnant, but even in 2020 pregnant workers are still being denied reasonable, medically-necessary accommodations at work (like extra water breaks or being able to sit down) because of loopholes in the 35 year old Pregnancy Discrimination Act. The Pregnant Workers Fairness Act would make it unmistakable: Employers must provide reasonable accommodations to pregnant workers who need them. Tell your U.S. Representative to support the *BIPARTISAN* Pregnant Workers Fairness Act!
2. Have you, your family or loved ones been impacted by criminalization or
incarceration as a youth? Share your story
BACKGROUND: MomsRising is working to END youth incarceration by challenging the practices and policies that criminalize kids and push them into the juvenile and criminal justice systems. Your stories can help create change that gives kids a chance! Tell us how you, your children and or family have been affected by youth incarceration, arrest, bail, probation, navigating the juvenile justice and criminal justice systems, and if you or your family has benefited from community based alternatives to incarceration. Share your thoughts and experiences with us and we'll include it in materials we use to educate our nation and decision makers about youth incarceration and what parents, caregivers, and community members are doingto address this problem in our nation! 
3. Tell Congress: We need paid family leave for ALL working families!
BACKGROUND: This week marked the 27th anniversary of the Family and Medical Leave Act (FMLA), which provides an opportunity to remind lawmakers and the public that now is the time for a national paid family and medical leave law – a policy that unites the vast majority of America's voters and working people. Right now only 19% of workers--and only 5% of low-wage workers--have access to paid leave. Working families need a national paid family and medical leave policy that checks ALL the boxes: It needs to be ACCESSIBLE to all workers, offer a MEANINGFUL length of leave, be AFFORDABLE for workers, employers and the government, INCLUSIVE in defining family, and offer job PROTECTION. It is time to make paid leave a reality for everyone. Whether it's to care for a newborn you swear already smiles, a mom who is ill, or a spouse battling cancer, being there for family is what matters. You shouldn't have to give up a paycheck to do it. Tell Congress that we want a comprehensive paid leave bill that benefits ALL workers!
4. Donate Today, Build Power for Tomorrow
BACKGROUND: The trial was a sham, but we will not stop fighting for our democracy! Please donate to MomsRising Together to build our power, get out the mom vote, and fight disinformation and voter suppression. Your donation will be used immediately to organize, to unite our voices, build our influence on Congress and to make our resistance to the lies and corruption as strong as possible. Please support this critical work by pitching in now. We need your help to add mom-magic to the 2020 elections. Together, we will:
Fight disinformation and voter suppression through rapid-response, fact sharing, and amplification of the TRUTH (it matters!).
Grow our movement and our power in key states to influence Congress to support mom priorities and values.
Make sure that all moms are registered and ready to vote in November.
Donate now to help MomsRising challenge the lies and protect our democracy!
5. SIGN OUR PETITION to protect people with disabilities!
BACKGROUND: President Trump is proposing changes to disability insurance (SSDI and SSI) that would impact an estimated 2.6 million people with disabilities, many of whom are children! Every child, no matter whether they have serious health conditions or disabilities, should be able to pursue their dreams. We'll be submitting our official comment on Trump's proposed federal rule change on disability insurance next week and we want to make sure your signature is included. ***SPEAK OUT NOW to protect our children by signing our letter saying "NO!" to Trump's most recent attack on people with disabilities.
CHECK OUT: Notable Moments and Reads from the past week    
Read MomsRising's statement on the sham acquittal of President Trump here. 
Check out MomsRising MomsForce Fellow Zandy Harlin's powerful op-ed on WA's new Paid Family and Medical Leave program in the South Seattle Emerald.
Check out our latest Maternal Justice Legislative & Policy Updates blog post, including highlights from the recent Maternal and Infant Health Subcommittee meeting. 
February 5th was Travyon Martin's birthday. He would have been 25 years old today. Happy Birthday Trayvon. This Black History Month and every month we honor and celebrate you. We #KeepMarching in your memory and so many others.
Thanks for all you do!