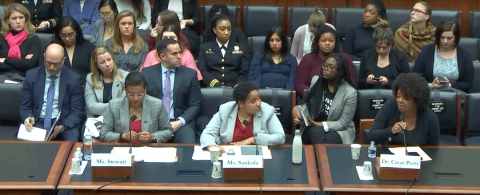 Maternal Justice Legislative & Policy Updates - January 2020
An overview of Maternal Justice-related federal and state policy updates. 
Federal Updates
Maternal and Infant Health Subcommittee meeting
On January Tuesday, 28th, 2020, an "Expecting More: Addressing America's Maternal and Infant Health Crisis" hearing was held by in the House of Representatives Health, Employment, Labor, and Pensions Subcommittee and Workforce Protections Subcommittee. Experts Dr. Joia Crear Perry, President of the National Birth Equity Collaborative and Advisory Committee Member of the Black Mamas Matter Alliance, US Breastfeeding Committee's Executive Director, Nikia Sankofa and Stacey Stewart, President and CEO of the March of Dimes testified to the urgent need to address our nation's maternal health crisis and discussed solutions such as expanding quality healthcare access, prioritizing addressing racism and implicit bias in care and expanding access and support for doulas and midwives. To watch the video of the hearing click below. 
Resolution Recognizing Maternal Health Awareness Day
U.S. Senators Kamala Harris of California, and Senators Cory Booker and Bob Menendez of New Jersey introduced a resolution recognizing January 23 as Maternal Health Awareness Day. New Jersey was the first state to recognize the date as Maternal Health Awareness Day two years ago, and other states and organizations have followed suit. To access the full text of the resolution, go here.
Women's Health Protection Act (WHPA)
As part of the Act for Women Coalition, led by The Center for Reproductive Rights, we are supporting the Women's Health Protection Act (WHPA). This bill would protect the right to abortion by creating a safeguard against restrictions that apply to no similar medical care.
This bill will be having a legislative hearing in the House Energy and Commerce Committee on Wednesday, February 12th at 10 am. This will be the first proactive hearing on domestic abortion access legislation in almost 30 years, and would not be happening if not for the tireless work of the entire reproductive health, rights, and justice community.
There are a number of ways to get involved if you want to ensure support for abortion access:
The bill has strong support, with more than 200 co-sponsors in the House and 42 in the Senate. We are excited to continue to collaborate with our partners to push support for this legislation through Congress, and support this historical hearing!
To find out more about the WHPA and the Act for Women Coalition, click here. 
Helping MOMS Act
The Black Maternal Health Caucus is championing the Helping Medicaid Offer Maternity Services Act of 2019 aka the Helping MOMS Act, a piece of federal legislation that would incentivize states to extend Medicaid to cover the entire postpartum period and invest in maternal health. 14,803 MomsRising members have taken action urging their members of Congress to support this crucial piece of legislation and we look forward to supporting this bill during the 116th Congress. To access the text of the Helping MOMS Act, click here.
State Updates
California
Bill Uplifting Reproductive Justice for People Behind Bars
The ACLU of California, the Women's Policy Institute of the Women's Foundation of California, California Latinas for Reproductive Justice, and Young Women's Freedom Center are leading efforts to pass AB 732, which  improves the quality of the healthcare and accommodations pregnant people receive in California's jails, by ensuring:
Regular prenatal and postpartum health checkups;
Lower tier bunks;
A ban on solitary confinement of pregnant people;
A ban on tasering or pepper-spraying pregnant people;
A support person for people in labor and giving birth;
Offering, but not forcing, pregnancy tests to people entering jail;
Free menstrual products for incarcerated people;
The bill has passed the CA Assembly as of January 27, 2020. Click here to access the bill text.
LA County to Expand Doula Services for Pregnant Women
The Los Angeles Board of Supervisors approved a motion, authored by Los Angeles County Supervisor Hilda L. Solis and co-authored by Supervisor Mark Ridley-Thomas, directing pertinent County Departments to seek funding to expand doula services for pregnant women who are Medi-Cal recipients, incarcerated, or members of an at-risk population not eligible for Medi-Cal.
This motion directs the Department of Public Health, along with other Departments, to produce a 90-day report back outlining funding streams that could expand doula services for middle-income black women, incarcerated women, and populations not eligible for Medi-Cal. The report back must also include suggestions for a Medicaid waiver that would allow expanded doula services for black women and other at-risk Medi-Cal enrollees.
To read the full press release go here. 
Massachusetts:
MomsRising has been part of a coalition of partners led by the Bay State Birth Coalition supporting H.1948/S.1332, the Out-of-Hospital Birth Access & Safety Act promotes public health, increase access to maternity care, improve the safety of home birth, and save money.  With 2020 being the Year of the Midwife, the coalition aims to make Massachusetts one of the 35 other states that license Certified Professional Midwives and the 17 other states that make their care accessible with Medicaid.
To find out more, click here.
New Jersey
NJ First Lady Tammy Murphy Nurture NJ announcement


MomsRising attended a press conference announcement by First Lady Tammy Murphy, where she revealed a state-wide strategic plan to connect philanthropic funding and national expertise designed to achieve the goal of cutting in half NJ's high maternal mortality rate and eliminating racial disparities in birth outcomes that are among the worst in the United States.
Bill Prioritizing the Study of Disparities of African American Women's Health Becomes Law
Governor Murphy signed A-5029, which requires the New Jersey Office of Minority and Multicultural Health to study the effects of racial and ethnic disparities on the sexual and reproductive health of African-American women in law on January 21, 2019. The bill was sponsored by Assemblymembers Shavonda Sumter, Verlina Reynolds-Jackson and Gordon Johnson.
Restoring of Planned Parenthood funding
Some wonderful Reproductive Rights news out of New Jersey this past month. NJ Governor Phil Murphy signed a law that protects health clinics run by Planned Parenthood and other agencies against the loss of nearly $10 million under an anti-abortion and anti-woman health directive issued by the Trump administration. 
Last August, Planned Parenthood opted to forgo millions in federal funding over the Trump administration's gag rule, which forbids agencies that take money under the Title X program (he only federal grant program dedicated solely to providing individuals with comprehensive family planning and related preventive health services.) from advising clients about abortion.
This bill allocates state money to restore the $9.5 million that had been forfeited.
Passage of Dignity for Incarcerated Primary Caretaker & Parents Act 
On January 9th, the Dignity for Incarcerated Primary Caretaker & Parents Act was signed into law. The bill provides incarcerated parents and primary caregivers with certain protections that help preserve their familial bonds while in state correctional facilities. Efforts on the ground were led by Gale Muhammad, Founder and President of Women Who Never Give Up (WWNG Up, Inc.) and nationally by #Cut50.
Virginia
State plan for medical assistance bill 
Momsrising's Maternal Justice team is supporting HB 826, a State plan for medical assistance; perinatal birth workers. This bill directs the Board of Medical Assistance Services to amend the state plan for medical assistance services to include a provision for the payment of medical assistance for antepartum, intrapartum, and postpartum services provided to a pregnant person by a perinatal birth worker who has education and training in the provision of culturally sensitive care, including services for labor and delivery support and at least four visits during the antenatal period and at least seven visits during the postpartum period. It has been introduced in the 2020 session of Virginia Legislature.
To access information about this bill, click here.