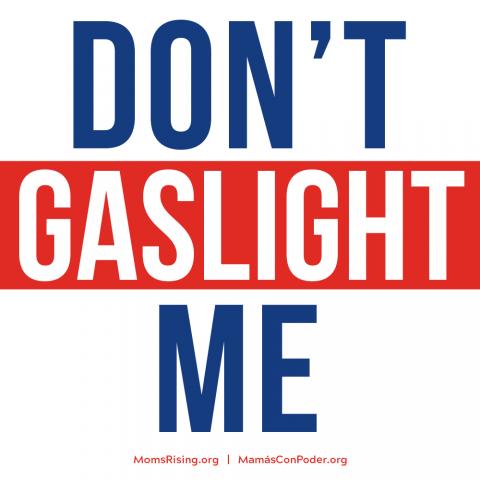 Top #5Actions of the Past Week: February 22, 2020
Last week we asked supporters to contribute to help us fight the lies, and we struck a chord. Our campaign triggered attacks: We had to report a threatening phone call that targeted Gloria and Kristin. One thing is clear - moms and families are sick and tired of the lies and disinformation coming from a president who the Washington Post says has made 15,413 false or misleading statements over the last 1,055 days.1
Fighting for women, moms, and families is not easy work, and frankly, it's not always safe. Some people might attack us, but we'll never back down. This work is too important. We believe in the truth, and we teach our kids to value TRUTH. We must fight the lies -  for our kids, and all children yet to come.
Thank you for fighting for the truth with us. Please read on and join us in this week's actions ...
1. Help MomsRising Shine a Light on TRUTH!
BACKGROUND: We've all heard the story about six-year-old George Washington chopping down his father's cherry tree, and not being able to lie about it. And, of course, Abraham Lincoln was known as "Honest Abe." We are furious that in 2020 we could not have a more different leader in the White House. Donald Trump has verifiably lied more than 15,000 times. He and his Administration regularly twist reality, sow confusion, and hide facts in an unending campaign to gaslight America — manipulating the truth and making people question what's real — to serve Trump's own ends. Support MomsRising's work to challenge the Trump Administration's lies. Donate now and get the "Don't Gaslight Me" button and help us shine a light on truth. | No thanks on the button, but I'd still like to donate.
2. Tell Congress: Repeal the "Muslim Ban" and Co-Sponsor and Pass the NO BAN Act
BACKGROUND: The Trump administration has expanded its travel restrictions to include: Sudan, Tanzania, Myanmar, Eritrea, Kyrgyzstan, and Nigeria-- Africa's largest economy, affecting nearly a quarter of people living on the continent. The "Muslim Ban" is not only separating families, it is keeping people from seeking asylum and refuge; students from receiving and completing their education; and families from celebrating. The National Origin-Based Anti-discrimination for Non-immigrants Act ("NO BAN Act") will end the Muslim Ban and amend the Immigration and Nationality Act to prohibit discrimination on the basis of religion, ensuring that no president can ever again ban an entire religion or community. If we don't stop the Trump administration now, they will continue to add more countries to the travel restriction list. We must do all we can to stop the Trump administration's discriminatory practices against Muslim and immigrant people and we must act NOW. Click here to add your name!
3. Check out and follow MamasConPoder on Instagram!
BACKGROUND: During Black History Month, our Spanish-speaking community, @MamasConPoder, is highlighting the work of AfroLatinas who are speaking truth to power! Don't miss their Instagram posts! Join the convo using hashtag #AfroLatinaPoderosa!
4. Take Action on the Equal Rights Amendment (ERA)!
Text ERA to 747464 TODAY
BACKGROUND: On February 13, in an historic vote, the U.S. House of Representatives passed HJ Res. 79, which removes the (likely unconstitutional) time limits to the Equal Rights Amendment. WOOHOO! Thank you to the bipartisan group of women and men who stood up for women's equality. Now on to the Senate! We need them to pass their version of the bill Senate Resolution 6. Text ERA to 747464 TODAY to contact your Senator and urge them to vote YES to lift the time limits on the ERA!
5. Tell Congress: Support the Pregnant Workers Fairness Act!
BACKGROUND: Despite the Pregnancy Discrimination Act's requirement that pregnant workers receive equal treatment, the fact is that some employers are still firing pregnant workers for requesting simple, medically-necessary accommodations, like avoiding heavy lifting or being able to take extra water breaks. Discrimination is the last thing you should have to worry about when you're pregnant, but even in 2020 pregnant workers are still being denied reasonable, medically-necessary accommodations at work (like extra water breaks or being able to sit down) because of loopholes in the 35 year old Pregnancy Discrimination Act. The Pregnant Workers Fairness Act would make it unmistakable: Employers must provide reasonable accommodations to pregnant workers who need them. Tell your U.S. Representative to support the *BIPARTISAN* Pregnant Workers Fairness Act!
Thanks for all you do!
- Nate, Gloria, Kristin, Diarra, Elyssa, Linda, Nadia, Sara and the rest of the MomsRising / MamásConPoder Team
[1] "President Trump has made 15,413 false or misleading claims over 1,055 days," The Washington Post, Dec. 16, 2019.