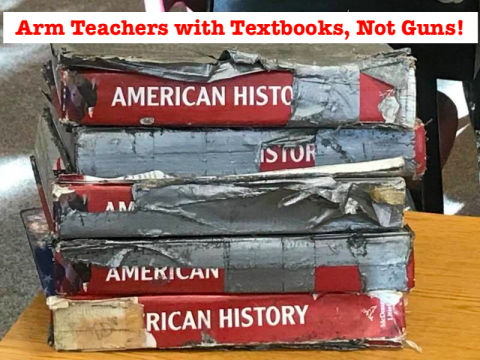 Top #5Actions of the Past Week: August 24, 2018
Children are already back to school in many parts of the country... wow! Summer has flown by. It's a busy time of year, so we'll get right to the point: We need all hands on deck to fight the nomination of Brett Kavanaugh to the U.S. Supreme Court, oppose guns in schools, demand Congress do something around climate change, and more. Please scroll down to find our list of top actions from the past week, and add your voice. Then share the list with friends and families. Together we are powerful. Thank you!
1. Tell DeVos: NO to Spending Education Funding on Guns!
BACKGROUND: U.S. Secretary of Education Betsy DeVos is considering a plan that would allow states to use federal funding to buy firearms for teachers in order to prevent school shootings. Across the country, teachers have been striking because they are underpaid and their classrooms are underfunded. Using precious education resources on firearms would be not only an unprecedented break from federal policy, but a profound gesture of disrespect to educators and students who are currently struggling in their school environments. Join us to demand Devos fulfill her duty to see that the children of our nation get a well-rounded, well-organized public education in safe and healthy environments by arming schools with the tools and resources they need for their students to succeed, NOT by arming them with dangerous firearms!

2. Quick Signature—Say NO to Kavanaugh! 
BACKGROUND: Right now, the Trump Administration and Republicans in the U.S. Senate are hoping you're too distracted to notice their attempt at an extreme political takeover of the Supreme Court of the United States. If confirmed, Judge Brett Kavanaugh, Trump's pick to replace Justice Anthony Kennedy on the Supreme Court, will solidify Trump's anti-healthcare, anti-worker, anti-immigrant, anti-choice, and pro-gun political agenda for generations to come. But we CAN STOP this nomination if we work hard and work together. In fact, current polling shows that Kavanaugh is one of the most unpopular Supreme Court nominees in recent history. A Kavanaugh confirmation is not a done deal. **Tell your U.S. Senators to VOTE NO on the nomination of Judge Brett Kavanaugh to the Supreme Court of the United States!
=> ALSO: Join the Day of Action to #StopKavanaugh this Sunday August 26! Click here to find an event near you. #StopKavanaugh #saveSCOTUS 

3. Urge Congress: Stand Up and Fight Climate Change Now!
BACKGROUND: The West is on fire, and we can all see it in Seattle, in Denver, in Sacramento, in Eugene, throughout California to Oregon, Washington State, as well as far, far north up into Canada and south into Mexico and beyond. Many people are having trouble breathing. Planes are delayed at airports due to low visibility. We're getting alerts on our cell phones saying not to go outside. Climate change is killing us. Tell Congress to stand up and fight for our lives and for our future. It's time for Congress to fight climate change with every tool at its disposal, including protecting clean power plants and so, so, so much more.

4. Sign on to Demand the CEOs of Wells Fargo and JPMorgan Chase Stop Financing CoreCivic and GEO Group!
BACKGROUND: We are outraged by Wells Fargo and JPMorgan Chase's roles in financing CoreCivic and GEO Group, two large for-profit prison corporations that are profiting off the separation and pain of families. Private prison companies hold contracts to operate hundreds of prisons, jails, and immigration detention centers across the country that are being used to incarcerate and separate families. Sign on to urge the CEOs of Wells Fargo and JPMorgan Chase to stop financing CoreCivic and GEO Group!
5. Say NO to Untraceable, Undetectable 3D-Printed Guns!
3D-printed guns are a grave threat to public safety and national security. It is madness to give everyone in the world free instructions on how to produce them.
3D-printed guns are *untraceable*, because they don't have serial numbers.
3D-printed guns are *undetectable*, because they are made of plastic.
And 3D-printed guns *can be produced by anyone *with access to a 3D printer and blueprints, making a mockery of background checks, concealed-carry permits, and other commonsense gun safety measures.
* Tell the State Department to stop free downloads of blueprints for 3D-printed guns by terminating its settlement with Defense Distributed.
Thank you for all you do, and #KeepMarching! 
P.S. We are mobilizing a massive get-out-the-vote effort, and every dollar helps. Will you contribute whatever you can to help us get out the MomsVote this election? Together we CAN make a difference.
P.P.S. It's time to double down on activating and organizing -- and we have a great way to do so in your local community with your friends. *Get the book #KeepMarching that shares best practices in organizing and reaching leaders and also has stories, an overview of top issues, and more (All proceeds go to MomsRising and it's on a special sale here.). Then get together to have a small group book discussion about the best tactics for creating change and also about MomsVote! (We have a great book discussion and action guide for you to use with your friends too.)