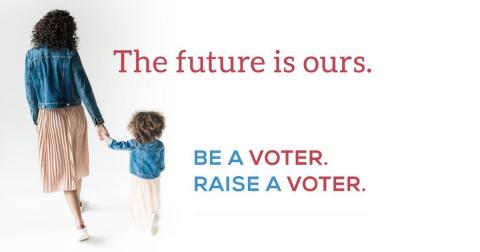 Top #5Actions of the Past Week: August 21, 2020
We know it's been a busy week with many families balancing back to school -- in all of it's different variations -- with work and daily activities. Even though you're busy, we didn't want you to miss these actions, especially ways that you can help get out the vote over the next 70+ days.
Please take a look at the actions below, and, as always, thanks for all you do to protect our democracy every day.
1. Sign Up to Get Out the #MomsVote With Texts and/or Calls!
BACKGROUND: We have just a few months before Voting Day on November 3. Research shows that personalized messages delivered in a conversational manner are one of the most effective ways to mobilize voters – and that's exactly what this program does. Plus, we have A LOT of work to do: Only about 58% of eligible voters turned out to vote in the last presidential election, which leaves a lot of room for improvement! So our personal voices are (quite literally) neede. Join us in making the call (literally, and text too!) to get out the vote!
**ACTION: 2020 #MomsVote GOTV Power Surge: Sign up for just 20 Minutes of Texts and/or Calls!
2. Demand that Senate Republicans save the USPS!
BACKGROUND: The United States Postal Service (USPS) is under attack—and with it, our democracy and our access to prescription medicine and other essential mail during a pandemic no less. In fact, the failure of U.S. Senate Republicans to fund the USPS is threatening vote-by-mail programs and also is threatening the delivery of live-saving drugs, supplies, packages, bills, and more.
Furthermore, President Trump's hand-picked Postmaster General, Republican mega donor Louis DeJoy, has inflicted much harm on the USPS by instituting wide-scale disruptive changes that discernibly slowed down mail delivery and damaged trust in the postal system. Those changes have been suspended for the moment, but Congress must also take steps to repair that damage, including demanding a clear plan for how the USPS will replace discarded equipment, reverse the damage done, and restore the public's confidence.
**ACTION: Tell the U.S. Senate to return to Washington, D.C., NOW to vote YES on $25 billion emergency funding for the postal service, pass a robust, comprehensive COVID-relief package, and save the USPS.
3. Say NO to pandemic profiteering by big pharma!
BACKGROUND: We are asking members of Congress to support legislation that will protect against pandemic profiteering and guarantee every person in the U.S. affordable access to COVID-19 treatments and vaccines. No prescription drug corporation should be given monopoly control over prices—especially when they're using our tax dollars to develop the treatments and vaccines!
In order to fight this pandemic, we need sufficient quantities and affordability to ensure universal access to safe treatments and vaccines. We deserve transparency, including how much taxpayers have contributed and corporations' costs of production.
**ACTION: Sign now: Stop big pharma from profiteering off of COVID-19 treatments and vaccine.
4. What Are You Voting For?
BACKGROUND: The 2020 Election is going to be one of the most important in our lifetime and every vote matters. MomsRising is setting the pace and garnering enthusiasm to get out and vote. It is up to us to make sure our voices are being heard.
**ACTION: Add your photo and share what is bringing you to the polls in November.
5. Support MomsRising's GOTV Work!
BACKGROUND: WOW! MomsRising supporters have stepped up to write postcards to remind low frequency women and mom voters to vote this year in numbers exceeding anything we've ever seen before. We blew through our first (big!) goal of ONE MILLION postcards and we've reached our NEXT big goal-- which means TWO MILLION handwritten voting reminder postcards will be sent!
If you've already donated to support the postcard campaign, THANK YOU! We are grateful. And if you can help us keep up the MOMentum for this next round of postcards, we need you now more than ever!) If you haven't donated yet and you would like to support this groundbreaking work to reach women and mom voters, now is the time!
**ACTION: Please chip in to support MomsRising's Mom-to-Mom Voter Postcards.